Rugby in St. Columba's – Start of Season Report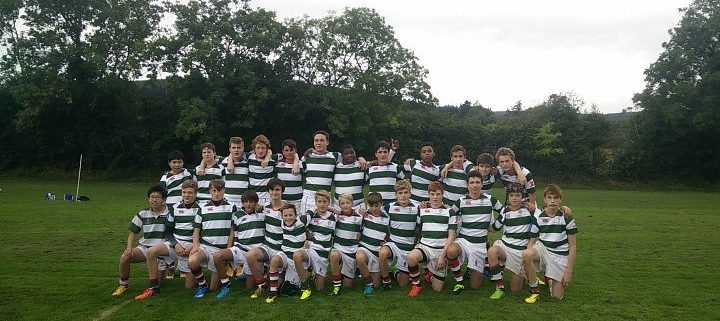 The school rugby season is under way with training taking place on Mondays, Thursdays, Saturdays and alternate Wednesdays. The first games of the season have also taken place, with some of our pupils experiencing their first taste of competitive rugby.
This year the Senior XV are being coached by Corry McCarthy and Andrew Mitchell, with the guidance of Graham Dean as the strength and conditioning coach. So far they have had two matches – a home friendly against St. Michael's Senior 3rds and their first league game away to Sandford Park. St. Michael's were a well-drilled and technically gifted side and they really attacked SCC out wide. However, St. Columba's put in a spirited performance and perhaps the final score flattered the visitors slightly – 27-3 to St. Michael's. The Seniors played their first league match on Wednesday last – away to Sandford Park – and it couldn't have gone better. They defeated Sandford Park with the impressive score of 53-5 away from home.
St. Columba's first try came from the first lineout of the match, with Max Hopkins touching down to make it 5-0. Callum Pery Knox Gore couldn't convert on this occasion. Henry Carroll scored the second try in the left corner before Callum Pery Knox Gore trusted his own ability and dotted down under the posts for a fine individual try, which he converted to make it 17-0. There was still time for two further tries in the first half, with Douglas Boyd Crotty securing the four try bonus point with an excellent run and step to put SCC up 22-0. Esosa Eronmwon scored the fifth try with a strong angular run to score under the posts. Callum slotted the conversion and the half ended with SCC in a commanding 29-0.
The second half started in a similar manner to the first with Douglas Boyd Crotty scoring another excellent try in the corner. At this juncture, the coaches emptied the bench and allowed some of the newcomers to rugby to get their first taste of the sport. However, SCC never lost their shape and maintained their dominance in the match. Hopkins scored his second of the day to put St. Columba's up 39-0 before Aifo Ebeleghe got in on the try scoring. Hopkins wrapped up his hat trick when he dived on a loose ball, with Ivan Moffitt slotting the conversion. Sandyford grabbed a late consolation try at the end but St. Columba's ended with a 53-5 bonus point win. A good day at the office.
The JCT's first match of the season was a tricky league match against Sandford, but at home. Things didn't go well initially and some slopping defending allowed Sandford take a commanding 26-0 lead after 20 minutes. However, St. Columba's showed great heart and clawed their way back into the game, dominating the second half. Thady McKeever got the first try, which he also converted, before Sam Lawrence grabbed a brace of tries. Sandyford lost their composure and discipline and the referee issued a number of yellow cards. SCC capitalised on their numerical advantage. Matthew Russell scored St. Columba's fourth try, which McKeever converted, securing a bonus point 26-26 draw. A superb performance considering the poor start.
The other rugby teams have yet to play their first competitive matches but are being put through their paces in training by their coaches. The Ducks, our Form I boys, are showing some good potential while there is some good players in Transition Year who will use this year to improve their overall skills. In conclusion, we look forward to an exciting, fun, safe and competitive rugby season ahead and wish all our players and coaches the best of luck.
https://www.stcolumbas.ie/wp-content/uploads/2016/09/img_20160921_154925_1474716023.jpg
540
720
St. Columba's College News Archive
https://www.stcolumbas.ie/wp-content/uploads/2017/04/weblogo.png
St. Columba's College News Archive
2016-09-24 00:00:00
2017-08-14 18:26:11
Rugby in St. Columba's – Start of Season Report