Golf at St. Columba's College
The College has it's own 9 hole golf course and hosts Kilmashogue Golf Club on our campus.
We are extremely lucky to have a wonderful nine-hole golf course on our campus with access for senior pupils and staff during the term. The course is host to Kilmashogue Golf Club, whose beautiful club house is situated beside the rugby pitches, in the main College drive.
For full information on Kilmashogue Golf Club visit their dedicated website here. To get a sense of the course watch the drone filmed video below.
St. Columba's College Golf Academy
In a very exciting new initiative, St. Columba's College is launching its Golf Academy in September 2022.
Introduction
The College already owns a nine-hole course which is on the College grounds, where Kilmashogue Golf Club are based. This also backs onto the very prestigious Stackstown Golf Club, the home of Padraig Harrington, a three-time major winner and captain of the 2021 European Ryder Cup team. Stackstown GC are very kindly offering Junior Membership to our best golfers, which will ensure that the experience will be second to none for aspiring young golfers, who can easily walk to 27 holes of golf from the school. Parents and young people who are interested in seeing the facilities are very welcome to visit the College, while further information is attached.
At well as developing their golf, young golfers will be full time pupils at Ireland's top co-educational boarding and day school, a school renowned for its outstanding academic results and pastoral care.
The Vision
The number of Academy pupils will be limited to 15. We have 300 local members of our golf club and we are keen to work alongside them. If more than 15 pupils want to sign up to the programme, a screening process will take place, with priority given to those with lower handicaps and to more senior pupils.
(It should be understood that golf can be played by all pupils at St. Columba's College, but Academy players will have priority access to the course and the swing studio.)
From September 2022, Academy golfers have been largely be drawn from our present pupil body, but it is envisaged that once the programme is fully up and running we will be recruiting aspirational young golfers, both boys and girls, from Ireland and overseas.
Membership of the Academy in one year does not guarantee membership the following year. Decisions on membership will be based on progress and commitment to the programme.
While excellence is always worth aspiring to, and we seek to attract fine young players, we would welcome interest from any young golfers who are prepared to work hard to maximise their potential. Not every golfer will be a scratch player, not every golfer will be a single figure handicapper, but all can improve their game. Success will be measured in terms of improvement and enjoyment, as well as by being a positive team player and an encouraging influence on others.
It is expected that Academy players will put as much effort into their school work as into their golf. Failure to perform or make an effort academically, or to keep to the College code of behaviour, will result in golfing privileges being suspended or withdrawn.
Facilities
Academy members will have on-site access to:
College Golf Course at Kilmashogue Golf Club
The College wedge range
Trackman studio and indoor putting green
Chipping green
Putting green
Fully fitted gym for S&C sessions
Stackstown Golf Club (Pupils on lower handicaps will be able to pay a modest fee for junior membership if they wish to)
In addition:
Academy players will receive a profile with CoachNow (https://coachnow.io/). This will be the direct contact with the coaching team.
Players will have access to Capto putting technology.
Away trips will also be organised to some of Ireland's top courses.
We are very well situated to take advantage of a variety of local courses and driving ranges.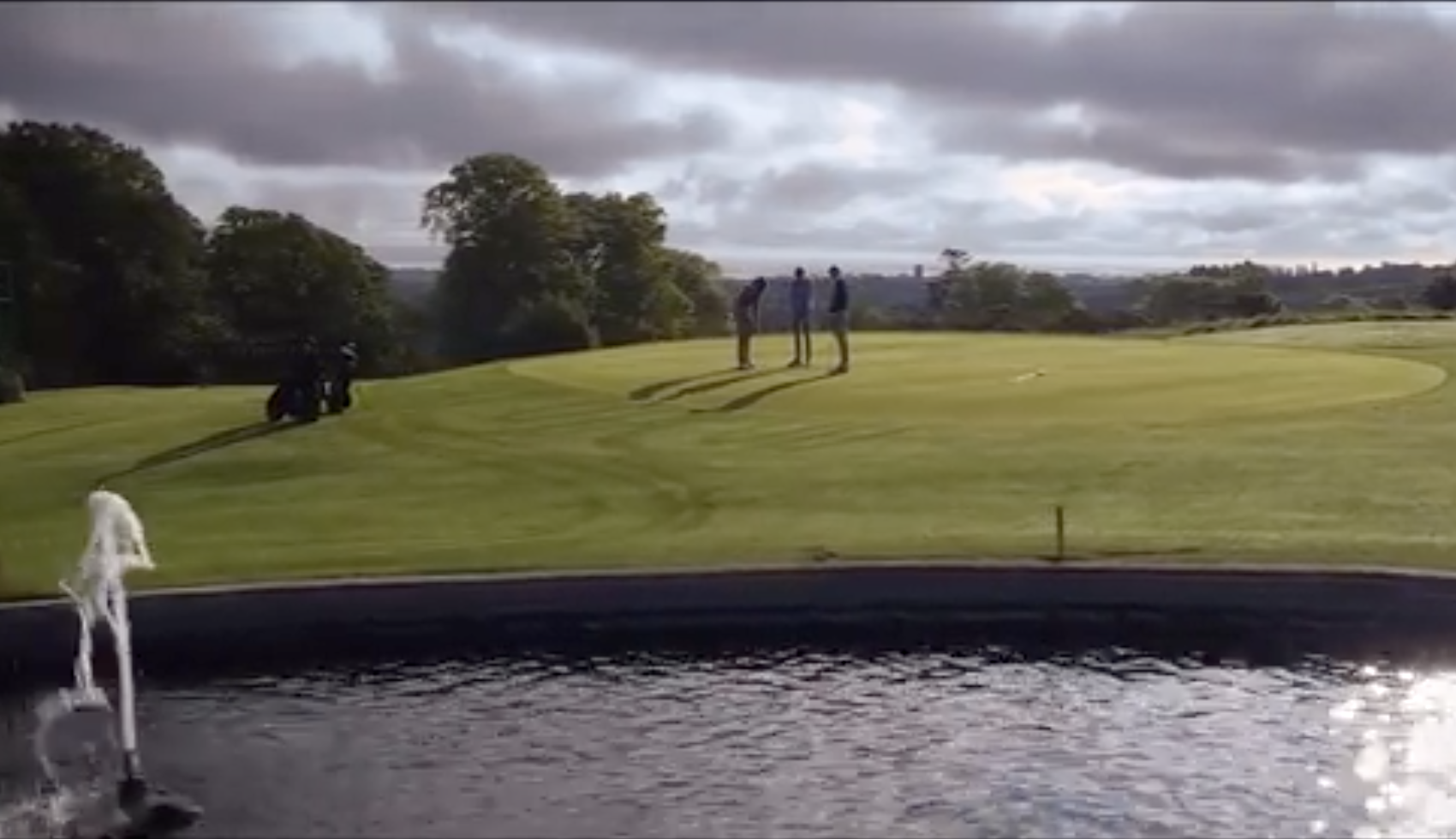 Costs
The cost in 2023-24 will be €3000. This includes coaching from the College golf professional throughout the year, with at least one individual or group lesson every week. All use of College golf facilities are included in this fee. (Please bear in mind the cost that weekly golf lessons would be at a club over the course of a year). This will also include the six away days to prestigious courses in the Dublin area and some branded SCC Golf Academy gear.
There will be additional costs from time to time: competition fees, transport costs, visits to the driving range, potential accommodation, trips, additional branded SCCGA clothing etc.
(It is obviously understood that parents will also have to pay the school fees, as their children will be full members of the College! For a full rundown of the College fees, for both day pupils and boarders, please visit the Admissions Section.
Further Information
If you would like to know more about applying to St. Columba's College and joining the St. Columba's College Golf Academy, please email admissions@stcolumbas.ie
To find out more about the Academy, email Josh Adams on joshadamsgolfacademy@stcolumbas.ie
He will also be running non-residential holiday coaching courses for young golfers, which are open to all pupils of St. Columba's College and other schools.
The Professional
Josh Adams, PGA Golf Professional
Mr. Josh Adams is in charge of overseeing the development of our young golfers. Josh's passion for junior golf development started in his early coaching days in Woodbrook Golf Club and from there Josh has developed and worked with young golfers in Stackstown GC, Leopardstown Driving Range, the Golf Ireland National Academy and Rathfarnham GC.
Josh has helped develop junior golfers from complete beginners to national panel golfers. He also has experience working with multiple touring professionals and he prides himself on developing his own coaching ability by working with and studying alongside many top international coaches, with whom he has connections.
Endorsement
Paul McGinley, Former Ryder Cup Captain
​"I love to see the endeavour, progress and investment that St Columba's College has made with their golf programme. Golf is a very important and necessary tool in today's world, with its opportunities for networking and building relationships, which are key to any success."