Boarding at St. Columba's College
The great majority of our pupils board at the College. We are a seven-day boarding school, with classes on Saturday mornings and a full set of events and activities over the weekends. Now find out more about boarding at St. Columba's and explore our seven boarding houses.
Fundamental to our community at St Columba's is our commitment to full boarding. We do have local day pupils, but over 80% of our pupils are seven-day boarders. Visitors are quickly struck by the friendly atmosphere between staff and pupils, and among pupils themselves, and our small size ensures that all members of the College are known to each other.
The House system fosters a special sense of community. Each pupil is placed in one of eight houses: Glen, Gwynn or Stackallan for senior boys, Hollypark or Iona for senior girls, Beresford for junior girls, and Tibradden for junior boys. The size of House ranges from 20 to 60 pupils. A Housemaster or Housemistress, assisted by at least one resident member of staff, is in charge of each house, and acts in loco parentis in every aspect of the children's welfare throughout their time at the College. Housemasters and Housemistresses know the pupils in their houses very well, and are usually the main point of contact between parents and the College.
Tibradden and Beresford occupy separate buildings in the centre of the College. Like the senior houses each has its own living and sleeping quarters and routine. Older boys and girls, selected by the house staff, help to provide an existence more structured and more protected than that of the rest of the school.
Beresford
The Beresford girls live in a beautiful Georgian building which was originally a family home. It is now the heartbeat of the College and known as the Main House. It is made up of the main staff area, offices, the boarding house itself as well as being right beside the Dining Hall!
Beresford House provides a cosy homely atmosphere for the youngest girls in the College. Girls in Form Primary and Form I live here with a small group of about ten Form V and VI girls.   The girls entering at this level make lasting friendships which last throughout their school days and beyond. The senior pupils play a vital role in helping to integrate the junior girls.
In the words of one Form I pupil "being a Junior in Beresford is a great way to experience boarding life, making friends and discovering new things. In boarding life there are always going to be some challenges but in Beresford there's a certain family element that is genuine and kind. Your friends and older girls are always looking out for you, as well as the house staff who support in any way they can."
Beresford accommodates about 30 girls in total and comprises boarders and day pupils as well as a diverse mix of nationalities.
The Staff involved in Beresford House include the Housemistress Derarca Cullen, Assistant Housemistress Suzanne McEneaney and House Tutors  Aoife Thompson and Cathy Boobbyer.
Glen
Glen is the oldest house in the College and is the largest boys' boarding House, catering for pupils from Form II to Form VI. It is named after the Glen stream which flowed down from Kilmashogue Mountain through the school property. The House has had several homes through the decades in various buildings. In 2004 Glen was amalgamated with Grange and moved to its current location, the Grange building (which it shares with Hollypark House), and which also includes four classrooms.
There are 52 beds in Glen in dorms of either two, four or six berths. There are four common rooms with kitchen facilities. Day boys have an area for their academic belongings and a changing and showering area for games. The House 'hub' area is a central point for informal meetings between boys and House staff where notices are posted, where Glen Artist-in-Residence pieces are displayed and where a cup of tea and a chat can be enjoyed of an evening.
Glen is the current holder of the annual House Singing, House Football and House Rugby competitions.
For the coming year Glen has identified homelessness as a pressing concern in Irish society and the boys have nominated the Peter McVerry Trust as their chosen charity. Our house motto, Lag Not in Zeal is taken from a Romans XII, a text read twice annually in the College – on the first day of the school year and on St. Columba's Day.
The Glen staff team currently comprises Ronan Swift (Housemaster), Sean Duffy (Assistant Housemaster), Barry Finn, Eunan McDonald and Daron Higgins (House Tutors).
Gwynn
Gwynn is a house that caters for senior boys (boarders, day pupils or day boarders) from Form II to Form VI. The house is named after the Reverend Gwynn who was the Chaplain and Acting Warden during his time at St.Columba's. The house has been situated in a variety of locations over the years. In 2004 Gwynn boarders moved from Garden House to the Founders' Building and the day pupils continued to use Garden house. From October 2017 day pupils and day boarders will be housed in the Masterman Library which is connected to Founders'. In the Masterman every day pupil or day boarder will have an area for their academic belongings and a changing and showering area for games.

Gwynn is a very traditional boarding environment with five dorms, each with 5 beds. The dorms are spacious and every boy has a work space with ample storage for clothing, books & belongings. Generally, each dorm contains pupils from the same Form. There is one common room in the house with kitchen facilities and a kitchenette for the senior pupils at the senior end of the house. The common room is used by all forms. It is used for house meetings, celebrating birthdays, watching TV and chilling out.

All of the pupils in the house regardless of form get to know each other very well. There is a very friendly and homely feel to Gwynn as it is smaller than some of the other houses. Day pupils and day boarders are encouraged to spend time in the boarding house and many enjoy staying late on Saturday evenings to socialise.

Gwynn has a proud tradition of doing well at all of the inter House competitions such as Rugby sevens, Football, Cricket, Debating, Singing, Hockey, Choir, Drama & Academics

For the coming year Gwynn has chosen Arc Cancer Support as their charity. Every year the Gwynn boys help to help pack gift wrapped shoeboxes with toys, sweets and gifts for children in Africa and Eastern Europe.

Our house motto is R.E.S.P.E.C.T, an acronym for
R is for Responsibility – we encourage boys to take responsibility for their own actions & futures
E is for Effort – every 2 weeks or so every pupil gets an effort mark in every subject. We urge pupils to develop a work ethic.
S is for Support – we recommend that pupils ask for support from staff, parents, peers, their faith and that they support others
P is for Punctuality – we ask pupils to be on time for all activities as it is a good life discipline
E is for Encouragement – we try to promote positivity and the importance of encouraging others
C is for Character– we attempt to help the pupils to realise that their actions become habits, their habits become their lifestyle and that shapes their character
T is for Tidiness– keeping areas tidy and being well turned out is a very important discipline
The Gwynn staff team currently comprises Paul Cron (Housemaster), Tristan Clarke (Assistant Housemaster), Humphrey Jones & Keith Ryan (House Tutors)
Stackallan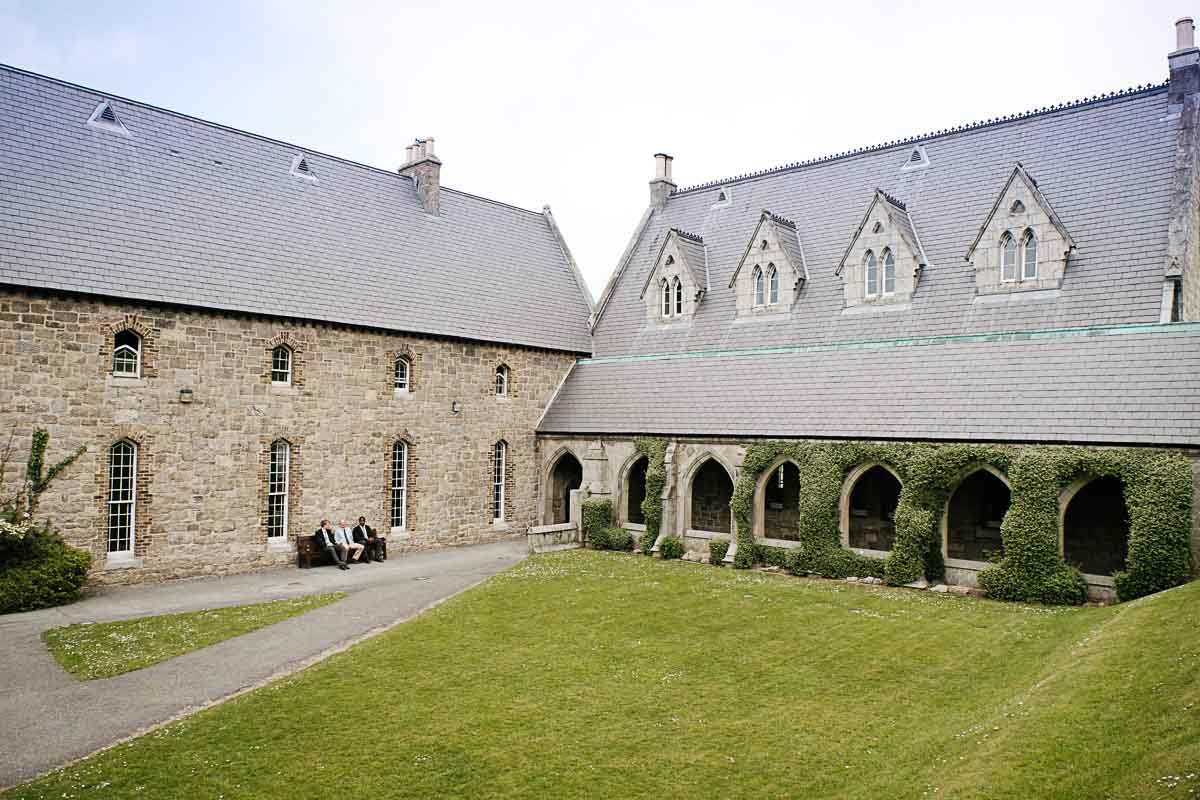 The name Stackallan resonates with the very origin of our unique pioneering school St.Columba's College in 1843 and its original location in Stackallan House located in the north of County Meath. The name Stackallan is derived from the Irish Teach Challáin, the house of Saint Callan. Saint Callan was an Irish saint of the sixth century, famed for having his adversaries turned into stones. This is not an ability the current house staff use for pastoral or disciplinary purposes!
The College relocated to its current location in 1849. The 'House system' in its modern sense was introduced by Warden C.W.Sowby in 1934 and in 1939 a new boarding house called Stackallan was created. It was located in the Argyle building until 1973 when it moved into the Cadogan building.
In 2006 during the most recent phase of College building, Stackallan House reversed the trend of westward movement and returned to the Argyle building. The House now occupies the Upper and Middle Argyle building right in the geographical heart and centre of the College. In real terms this means above the Dining Hall and close to Cloisters and Chapel, saving valuable walking minutes during the working day.
Stackallan House currently is the home to 28 boarding pupils and ten day pupils.  It has four house staff attached to it, all whom live on campus. It has a reputation for traditional values of honesty and integrity, and full involvement in all areas of college life: sport, music, drama and volunteering for charitable works.
The House has had three Housemasters since 1955. N.H. Lush 1955-1980; N.F.D.Falkiner, 1980-1997; and L.J. Canning 1997 until now. He was a member of the House in a time bridging both previous Housemasters, both of whom had formidable reputations as effective and caring Housemasters and were well-respected by their charges.
The Stackallan Team
Liam Canning has been the Housemaster of Stackallan since 1997. He lives on the college grounds with his wife Lyn and his two children Ross and Hollie, who both attended the College. He spent his formative years growing up in Asia and Africa in the school holidays and boarding in Headfort school, Kells, Co.Meath 1973-78 and then in Stackallan House in St Columba's College 1978-82. He graduated from Dublin University, Trinity College and teaches English. He is also Director of Sport in the College and master in charge of cricket. He loves all sport and played international hockey for Ireland from 1986 to 1995. He enjoys reading,  coaching indoor hockey, watching sport and walking his dogs.
Michael O'Shaughnessy grew up near Bray in north Wicklow. He is the Assistant Housemaster of Stackallan House. He attended Downside School in Somerset from 1983-88 and then studied Modern Languages at Hertford College, Oxford. He moved from London to St Columba's in 2008. He is Head of Modern Languages (teaching French and Spanish) and Head of Careers. In his spare time he enjoys running (slowly), reading, travelling and gardening.
Andrew Mitchell is the resident house tutor of Stackallan. He was a pupil in the college from 2001-06 and was Head of Stackallan House in his final year. He is a science graduate of University College Dublin. He teaches science and mathematics in the College.He also coordinates athletics and coaches the senior rugby team.
Graham Dean lives on the campus with his wife Linda and is attached to Stackallan as a house tutor. He studied sports performance at the Sports Science Institute in Cape Town, subsequently graduating from St. Mary's University (London) with an MSc in Strength & Conditioning. He moved to Ireland in 2009 and has been at St.Columba's College since 2012. Graham is the newly appointed Head of Boys' Sport and he also leads the College 'Athletic Gymnastic Conditioning' programme.
Hollypark
Named after the original main building on campus (where it was first situated), Hollypark is the oldest and largest of our girls' boarding houses. It moved to the Grange Building in 2004 and enjoys stunning views over the city. It comprises 12 dormitories, varying in size, housing 52 Form II – Form VI boarder girls.
Each Form has their own common room complete with mini kitchen and there is plenty of communal space around the house for us all to get together for social events. Our day pupils are encouraged to become fully integrated into house life, sharing the common space with their peers while also enjoying their own dedicated facilities.
Life within the House involves all forms mixing together with the older girls beingexcellent role models. We foster responsibility, acceptance and a caring atmosphere, which in turn provides a stimulating environment for the girls to learn.
As a house we have chosen to support Crumlin Childrens' Hospital as our House Charity  in 2018-18. It is a charity the girls are all familiar with and have a personal affection towards. All money raised will be given directly to the Cystic Fibrosis Unit to support research and fund much-needed equipment for the team.
The house team consists of Julie Robinson  (Housemistress) Mary Singleton (Assistant Housemistress) Lorraine Harrahill & Lisa Lynch (House Tutors).
Iona
Iona is a boarding house for Senior Girls from Forms II to VI. Currently there are 46 girls in the house, both boardings, day boarders and day pupils. The house was established in 1994 with Mrs Sherwood appointed as the first housemistress. Iona is located in the Fellows Building, which once was home to the now defunct Grange Boarding House.
Iona have chosen to support the Deaf and Dumb School in Sicuani, Peru (once visited by Mrs Sherwood) as their charity for this academic year. The school is run by two Carmelite nuns  and receives no funding from government and are therefore totally depends on donations. Iona are also having a knitting club during activities, knitting hats and scarves for orphans in Eastern Europe.
Day Pupils
&

Day Boarders
Day pupils and day boarders are fully integrated into the different houses and participate fully in the life of the community (day boarders remain at school until the end of the evening study, and day pupils go home at about 5.30 pm). Many pupils who begin their time at the College as day pupils enjoy life here so much that they move in to board at a later date.
Housemasters
&

Housemistresses