Senior & Junior Rugby Teams Building Momentum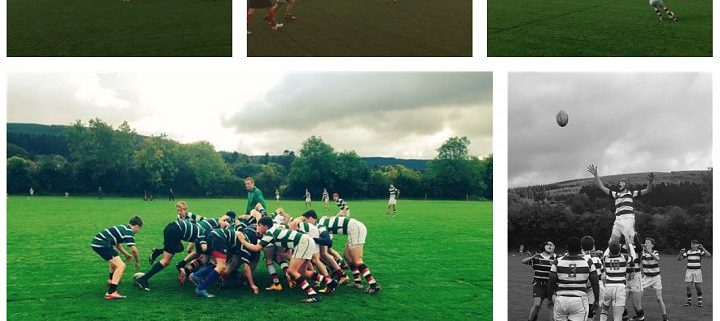 The rugby pitches in St. Columba's have been seening a lot of action lately, with boys from every Form in competitive action. The extended Senior Rugby squads have been very busy over the past week with the Seconds playing three games in a week, against a CUS Transition Year team, Wesley TY's and a Terenure Social team. The Firsts were also in action against Mount Temple, who have been struggling in the league above SCC.
Unfortunately the Seconds lost both games against CUS (59-14 to the visitors with two good tries form Joel Taylor and George Guinness, converted well by Henry Carroll) and Wesley (26-12 to Wesley – tries from Rupert Murphy and George Guinness, again converted by Henry Carroll who had a good game overall). While the results were disappointing the performances were very encouraging and they were quitely confident going into their game yesterday against a Terenure social team. They performed well and were thoroughly deserving of their 31-8 win. Henry Carroll continued his good form with two tries and three conversions while Gabriel Ejase Tobrise, Adam Murphy and Marc – Philipp Eichorn also passed the try line. Many of the Seconds squad have just taken up rugby so the signs are very good.
The Senior First XV were also in action yesterday against Mount Temple, a team in the league above them, but who have struggled. It was a good chance for SCC to assess their own standard as the cup approaches and it proved a good exercise. Some individuals excelled, particularly Max Hopkins and Callum Pery Knox Gore. Callum scored all of SCC's points (two tries and their conversions) as his team won 14-7. Saying that, there were a lot of unforced handling errors and missed opportunities which the coaching team will be eager to address. The Senior Squad travels to Northern Ireland this Saturday to play a game against Methody College and will also take in Ulster's Champions Cup game against the Exeter Chiefs in Ravenhill.
In the Junior Forms, our Form I boys (The Ducks) were also in action in the past week, playing in a 10 aside round robin competition at our near neighbours De la Salle Churchtown. SCC were represented by two teams and each won one game and lost one game. Tom Larke, Henry Johnson, Jack Hayes, Marcus O'Connor and Pavlo Shvalov were among the try scorers in a very useful exercise. Their game yesterday, against East Glendalough School, was unfortunately cancelled but they can look forward to an epic fixture against arch (Duck) rivals Headfort on Thursday next! Our youngest players are showing great promise.
The Leps (Form II boys) were also kept busy lately two, with three games in recent weeks. First up were Blackrock U14 E's last Saturday but arguable Ireland's best rugby school were too strong for us. Mikhail Sukachev scored a good try, which was converted by Patrick Hare, but that was SCC's only score with the game finishing 33-7 to the visitors.
On Wednesday last the Leps visited Castleknock College U14 D's. It was a very high scoring game with SCC scoring four tries through Sergio Hampshire, William Torkington, Titien Lauron and Julio Perez Cervera. Unfortunately they lost 43-26 (despite being 26-12 ahead at half time) but they were always going to struggle with some of their better 2nd years playing with the J's against EGS at the same time. They played their second game in 24 hours yesterday against St. Mary's C's, with some of the JCT subs participating. It was a super game and St. Columba's were deserved winners 19-12, with tries coming from Daniel Swift (also two conversions), Javier Ledo San Nicolas and (try machine) Mikhail Sukachev.
The Junior Squad have been going extremely well in their league so far, winning one and drawing the other. On Wednesday last they faced East Glendalough School in the league but unfortunately lost on a scoreline of 40-24 to the visitors. St. Columba's came out of the blocks at the start of the game putting real pressure on the visitors when in possession. They scored first, through Killian Morrell in his first start of the season, off a well worked move from the back of a scrum. Sam Lawrence, at number 8, picked the ball at the back of a scrum, fed Killian who stepped the last defender for a dream start for SCC.
EGS came back but St. Columba's scored again in the corner from Mikhail Sukhachev in his JCT debut (his Leps form being rewarded). But EGS came back and levelled the game at 12-12 after 20 minutes. Then SCC lost their shape and began to throw the ball around in our own half too much and gave away some silly penalties. They also started falling off tackles and dropping the ball in mid field and EGS built momentum and reaped the rewards scoring four unanswered tries in a significanr purple patch. But SCC came back well towards the end of the game and scored two more tries to get a bonus point through Jose Fominaya and Sam Lawrence (conversions by Thady McKeever and Marcus Russell). Sakhile Khumalo again put in a great performance with some big aggressive carriers and tackles.
Finally, a big thank you to all the referees in the recent games, especially Mr. Stevenson, Mr. Cron, Mr. Swift, Pat Tipper and Mike Elliot Murray.
https://www.stcolumbas.ie/wp-content/uploads/2016/10/rugbycollage_1477038360.jpg
566
720
St. Columba's College News Archive
https://www.stcolumbas.ie/wp-content/uploads/2017/04/weblogo.png
St. Columba's College News Archive
2016-10-20 00:00:00
2017-08-14 18:15:13
Senior & Junior Rugby Teams Building Momentum