Staff and Pupils' music concert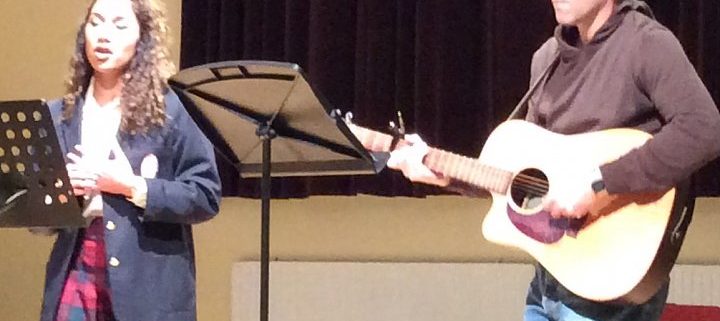 The annual staff and pupils' concert is by now a very pleasant fixture in the calendar, cheering dark January days with a variety of excellent music-making. As Mrs Malone-Brady said at this year's concert, on Sunday 22nd January, it is also an opportunity for all to hear some of their music teachers performing, and show what standards they can aspire to. The opportunities are there on a plate for pupils here, while they will not be in their future lives, and they should grab these.
This year an innovation was the fine first performance by an ensemble (on its way to becoming an orchestra?) under the tight direction of Michelle O'Reilly: flute, clarinet, oboe, saxophone, piano, violin and drums were represented in 'My heart will go on' and the theme tune from Pirates of the Caribbean. They were followed by a variety of excellent pupil soloists, including Aurora Higgins Jennings (accompanying on piano her own version of Adele's 'Make you feel my love'), Nicole Dickerson (singing Handel's 'Lascia ch'io pianga'), Aleksandra Murphy (Handel again, this time on flute), Tania Stokes ('Irish Lament' on the 'cello), and Heinrich zu Rantzau, who to the acclaim of the audience sang 'Cockles and Muscles'. Brothers Alex and Sam Lawrence, who presumably have plenty of opportunity to practise at home, gave us their jazzy version of 'Bye Bye Blackbird' on piano and saxophone respectively.
The first music teacher to perform, with her characteristic expressiveness, was Anna Brady, last year's Gala Concert star, with Bellini's 'Vaga Luna'. Later we had by far the longest-serving member of the music staff, Alan Grundy, with two superb renditions: 'My Funny Valentine' and a 'rowdy' (his word) flamenco piece. Another favourite local performer, Mr Swift, took to the stage to sing 'Southern Man' by Neil Young (as he said, one of the few popular music greats to survive 2016), and then accompanied the smoky-voiced Aisha Burke on James Bay's 'Let it go'. Mairéad Buicke, another former Gala Concert star, sang Ivor Novello's 'We'll gather lilacs' beautifully. Michelle O'Reilly returned to take part in the flute quartet alongside pupils Josephine Krieger, Maria Weinrautner and Aleksandra Murphy with 'Somewhere over the rainbow'.
Back to the pupils: Mona Lamotte O'Carroll and Aifo Ebeleghe, accompanied by Alex Russell, gave a strong performance of Passenger's 'Let her go'. André Stokes successfully took on the beautiful and demanding Mendelssohn Violin Concerto slow movement. Two Sixth Formers and regular BSR performers rounded off the pupils' contributions: Max Hillery singing 'My Way' in his own distinctive way, and Ciara Gumsheimer confidently giving us 'Humoresque' by the Czech composer Dussek on the piano.
As a final treat, Anna Brady and Mairéad Buicke sang the great duet from The Marriage of Figaro, 'Sull' Aria', which as Mrs Malone-Brady said in her introduction many would recognise from the film The Shawshank Redemption, and an image of how music can raise our spirits and lift us from the everyday world, 'making our hearts big'. It was an appropriate way to end yet another impressive concert in the Big Schoolroom. Many thanks to Mrs Malone-Brady on putting together the occasion, and often accompanying, as well as to the teachers and pupils who performed.
https://www.stcolumbas.ie/wp-content/uploads/2017/01/fullsizerender_1485175711.jpg
520
720
St. Columba's College News Archive
https://www.stcolumbas.ie/wp-content/uploads/2017/04/weblogo.png
St. Columba's College News Archive
2017-01-23 00:00:00
2017-08-01 15:01:44
Staff and Pupils' music concert