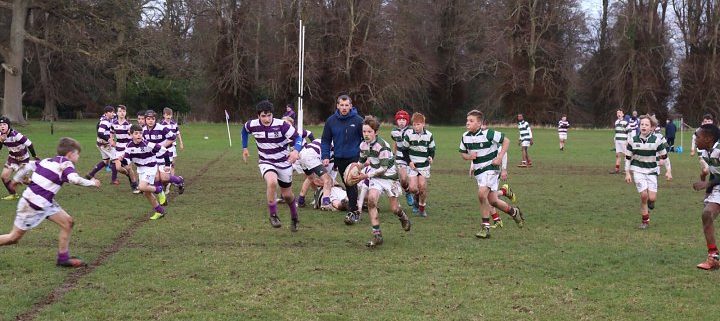 Since their return after the Christmas holidays the rugby teams have been very busy – both in training and in competition. Almost every boy in the College plays rugby and, over the past five weeks, have experienced both the jubilant buzz of winning and the piercing numbness that comes with defeat. The players and their coaches have been working hard and progress is being made. Skills and fitness are improving and the teams are gelling together better than ever.
Our youngest boys in Form Primary & I, the Ducks, have played five games from January to half term with mixed levels of success. The boys had three good wins over Sallins, St. Andrew's B's and Wilson's Hospital while going down to Temple Carrig and Clongowes C's.
Our Leps (comprising boys from Form II and less experience players from Form III) have played four fixtures in as many weeks, with some mixed results. After a heavy loss to St. Paul's on their return to the College after Christmas, the Leps regathered and played out of their skin in a tour-de-force performance against Belvedere U14 D's. Unanswered tries from Mikhail Sukhachev (2), Ben Sigurvinson, Edward Onyeka Patrick and Killian Morrell along with a Patrick Hare penalty and brace of conversions saw the boys claim the victory 32-0. A few days later they participated in a cracking match against St. Michael's U14 C's. Despite some great tries from Edward Onyeka Patrick (2), Borys Shvalov and a Harry Petch conversion, the defensive solidity from the previous game was lost and the game ended 38-17 to St. Michael's. Just before the exodus weekend they sadly lost to a Temple Carrig's Form II team 35 – 5, with their try scored by Javier Ledo San Nicolas. Despite the loss the boys are really enjoying their rugby and making great progress.
The Junior Cup Team have been involved in both league and friendly fixtures in the past few weeks, with mixed fortunes. Back in mid January they suffered a heavy defeat to Clongowes J3's, who played a simple but effective brand of rugby. A week later they lost again to St. Michael's J3's. Thady McKeever was in great form and scored two tries (converting both) while Andrew Pollock also grabbed a five pointer. But again the defence was porous to say the least and St. Michael's scored a bucket of tries, winning the game comfortable 38-19. There was frustration amongst the players and coaches and plenty of "work-ons" for training. Unfortunately, a few days later there was another heavy defeat – this time to Kings Hospital JCT. A comprehensive win 69-12.
The fixture congestion eased for the J's and the coaches, Aoife Thomson and Mr. Peter Stevenson, were able to really focus on a number of key skills in training. Defence was a big problem but also the boys were lacking confidence after some heavy defeats. Earlier this week the JCT travelled to local rivals De la Salle Churchtown needing a boost. Fixtures between the two schools are generally close affairs, and keenly contested, and this was no exception. St. Columba's had to fight for every inch but succeeded in coming away with the victory. A hat-trick of tries from Sam Lawrence – a superstar in the making – along with another from slippery Matthew Russell (he also scored three conversions) saw the boys edge the fixture 28-22.
With confidence high, the boys played their second fixture of the week earlier today, against Gonzaga J3's. Sam again scored a brace while Thady and Sakhile also dotted down. Thady also added two conversions. It was a super performance – in attack and defence – with the boys winning 29-12 in the end.
The Senior boys rugby teams – the SCT and the Senior Development XV (generally comprising of Form IV and V pupils)- have shown great progress over the past few weeks. Some eye-catching individual and team performances have produced some excellent results but, more significantly, revealed the potential within the group. After their recent run of results the SCT now have a league semi final to look forward to – against Drogheda Grammar.
Back in mid-January, after their confident return to action after the Christmas break the previous week (against Terenure) the Senior Development side hosted Clongowes Wood 5th Year XV. St. Columba's started brightly and soon got on the score board through George Guinness. He added another later in the game to compliment the tries from Sean Cooper, Ivan Moffitt and Callum Pery Knox Gore. Henry Carroll added four conversions and the team were well satisfied after securing a comfortable 33-12 win.
A week later, the Senior Development XV travelled to Blackrock to take on a Transition Year side – their TY B's – in a league match. It took time to gel the defence and a few soft tries were leaked. However, SCC scored a couple of good tries from Aifo Abeleghe and Sean Cooper but it wasn't enough as the home side won out: 36-12.
A few days later, just before the January exodus, the Senior 1st XV took on Mount Temple in the league. It was probably their most complete performance of the season to date and they won handsomely 44-0. There was a brace of tries from Aifo Ebeleghe and others from Hector Wright, Douglas Boyd Crotty, Thomas Meijer, George Guinness, Sean Cooper and Max Hopkins. Henry Carroll added two conversions while the SCC defence kept Mount Temple scoreless.
After the exodus weekend, the Senior Development XV took on ST. Michael's Senior 5ths. These fixtures are a great chance for coaches to develop players, combinations and new tactics. On this occasion the tactics didn't quite get across and St. Michael's won easily on a score of 40-3.
The Senior 1st XV travelled to Mullingar and Wilson's Hospital school for a league fixture. In a hard fought game St. Columba's didn't get the rub of the green (or some of the referee decisions) and eventually lost out 29-14 to the home side.
And just before half term the Senior Development XV took on Rathgar's High School Senior 3rds, winning on a score line of 20-10, with tries coming from Max Hopkins, Sean Cooper, Hector Wright and Alex Russell. With this season closing to an end there is considerable potential within this group, which bodes well for the coming years.
The season comes to a close in the coming weeks but there is a sense of all teams building towards next year. Look out for the end of season report in the coming weeks.
https://www.stcolumbas.ie/wp-content/uploads/2017/02/duck1_1488448753.jpg
480
720
St. Columba's College News Archive
https://www.stcolumbas.ie/wp-content/uploads/2017/04/weblogo.png
St. Columba's College News Archive
2017-02-17 00:00:00
2017-08-01 14:46:49
Half Term Rugby Report