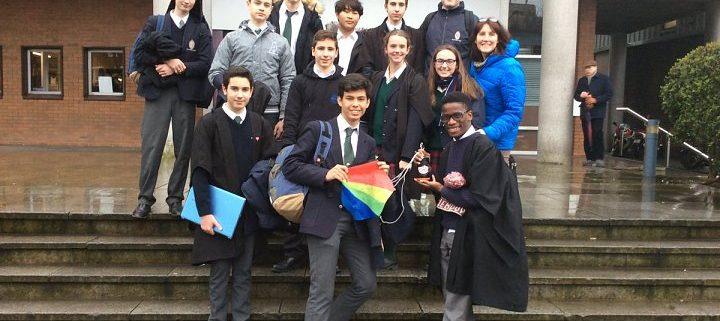 Many congratulations to Ms Hennessy and her team of fourth formers on winning the regional CanSat competition in DIT Kevin St. yesterday. Those involved were James Park, William Zitzmann, Leonard Lopez ,Caroline Meincke, Harry Oke, Ted Johnson, Grigory Kryukov, Blas Calatayud, Teresa Clemente, Sinclair Jones , Alex Sigurvinsson, Jaime Segui, Marie Bleyl and Santiago Puelles. They have been working very hard over the past few months in preparation for the day.
Cansat in Europe is an initiative run by the European Space Agency (ESA). It is run across schools in Ireland and Europe and is aimed at second level pupils interested in space technology. Cansat is a simulation of a satellite, recording information integrated into a 330ml soft drinks can. The main challenge is to fit all the necessary electronic components – power system, sensors and radio communications needed in the can to record information and survive the conditions of a launch. The Cansat is then launched to an altitude of a few hundred metres by a rocket or dropped from a quadcopter, kite or balloon and its mission begins: to carry out a scientific experiment and land safely.
Their efforts were rewarded by winning the regional final and earning a place in the national finals which will be held in Cork on April 27th -28th .
Part of the project work involves education and outreach. To facilitate this the team have created a Website, blog, Facebook page and Twitter account (which was used on the day to chart progress in the competition).
You can follow their progress http://scc-cansat2017.weebly.com
https://www.stcolumbas.ie/wp-content/uploads/2017/04/cansat2_1490261768.jpg
538
720
sccdublin
https://www.stcolumbas.ie/wp-content/uploads/2017/04/weblogo.png
sccdublin
2017-04-05 16:44:01
2017-04-08 06:25:30
CanSat project