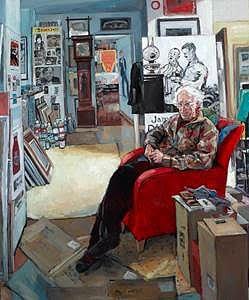 A soiree with Hector McDonnell, on Tuesday, 21st March, 6.30pm for drinks and dinner. 8.00pm lecture. 
(Tickets for the dinner and drinks are 15 euros each; please contact Cathy Boobbyer at cboobbyer@staff.stcolumbas.ie if interested).
This year as part of Arts Week we are fortunate to be holding an exhibition of one of Ireland's most successful contemporary realist painters.
Hector is the younger son of the 13th Earl of Antrim and was brought up in Glenarm, Co Antrim.  In 1964 he left Ireland to study painting in Munich and then went to the Akademie die Bildende Kunste in Vienna for a year.  He then studied history at Oxford University while continuing to paint and draw on the side.  After graduating, Hector decided to become a full-time artist.  Within two years he held his first solo exhibition.  Since then he has travelled extensively and has exhibited in Germany, Paris, Stuttgart, Belfast, Stockholm and Madrid, as well as in London and Ireland.
Hector has not shied away from difficult subject matter.  Parts of his work reflect scenes from the time he spent in Rwanda and the camps of Zaire following the tragic massacres that took place.  After that he spent a number of years living between New York and Antrim.  After the events of September 11th 2001, Hector exhibited work which is a poignant record of post 9/11 New York life.  He described how when he walked around Ground Zero, it smelt and felt like Belfast in the Seventies.  "The smell of burning buildings. And smell can remind you very strongly, it shook me."
Closer to home, Hector was commissioned to paint the moment that the Queen crossed the street to visit St. Michael's Catholic Church after attending a service in St. Macartin's Church of Ireland Cathedral in Enniskillen on 26 June 2012 as part of her two-day Diamond Jubilee tour of Northern Ireland. Canon Peter O'Reilly reflects on the work, "The street is the focus of the painting because it is the place where the Queen gave a new direction to our common history, while it remains as a place for growth and development."
https://www.stcolumbas.ie/wp-content/uploads/2017/04/mcdonnell_1487756305.jpg
300
249
sccdublin
https://www.stcolumbas.ie/wp-content/uploads/2017/04/weblogo.png
sccdublin
2017-04-05 16:44:01
2017-04-09 22:10:36
Hector McDonnell