TY Modern Languages evening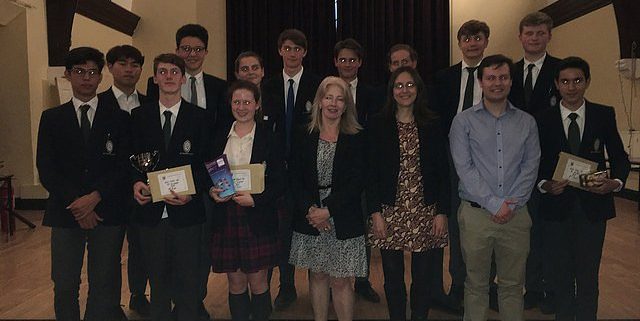 The sixth annual Transition Year Evening for Modern Languages was held on Tuesday evening in the BSR. Twelve pupils gave presentations in French and Spanish on subjects including La moda española, Le terrorisme en France, Le pain au chocolat, Le Gard, Angers, La Suisse romande, Le Mont Saint-Michel and l'Art Nouveau. There were also readings of poems in German, Japanese, Luxembourgish, Korean, Catalan, Russian, Yoruba and Irish. The night was capped off with an entertaining video from Mr Morris's French set about life at St Columba's.
Prizes were awarded as follows:
We are extremely grateful to Dr Alyn Stacey and her team from TCD who adjudicated and provided such valuable feedback. The judges were extremely impressed by the depth of research and quality of language of all the presentations.
https://www.stcolumbas.ie/wp-content/uploads/2017/05/34318688390_9d15cb8cf5_z_1495051526-2.jpg
480
640
St. Columba's College News Archive
https://www.stcolumbas.ie/wp-content/uploads/2017/04/weblogo.png
St. Columba's College News Archive
2017-05-17 00:00:00
2017-08-15 14:47:39
TY Modern Languages evening