Victorious Cansat Team Prepare for Europe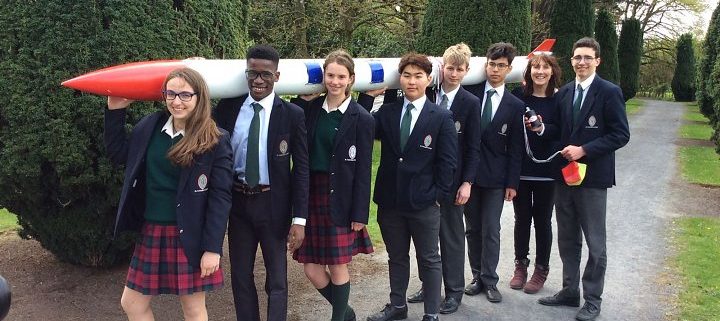 The St. Columba's College CanSat Crew, ably led by Ms. Hennessy, recently won the national final and will represent Ireland in the European final in Bremen, Germany, next June. The team update us on their preparations for the European final here. 
 CanSat is a simulation of a real satellite, integrated within the volume and shape of a soft drink can. The challenge for us was to fit all the major subsystems found in a satellite, such as power, sensors and a communication system, into this minimal volume. During the national competition our can was launched to an altitude of 400m by a rocket and our mission began –  to collect scientific data and achieve a safe landing.
This project has given us a unique opportunity to gain practical experience of a real space project. We designing the CanSat, selecting its missions, integrating the components, tested and calibrated our senors,  prepared for launch and then analysed the data. We them had to present our findings to the judges who were extremely impressed with our knowledge, application and most of all team work.
Following our success in the national competition we are now busy preparing for the European competition. ESA recently announced this year location and the team of 8 (William Zitzmann, Jiwoo Park, Caroline Meincke, Leonard Lopez, Harry Oke, Teresa Clemente, Ted Johnson and Blas Calatayud) will be travelling to the Center of Applied Space Technology and Microgravity (ZARM), at the University of Bremen, Germany. The competition campaign will take place from 28 June until 2 July 2017 where we will be competing against 16 other teams from around Europe including – Belgium, Czech Republic, Denmark, Germany, Greece, Italy, Norway, Portugal, Poland, Romania, the Netherlands, Spain, Hungary, Switzerland and the UK.
While we wait for our new sensors and GPS module to arrive we are carrying out additional research and working hard on our Pre-Launch Report (PLR) which must be submitted to ESA in early June.
The European CanSat competition is only one of ESA's initiatives to help young people increase their literacy and competence in STEM disciplines and inspire them to pursue a career in the STEM (science, technology, engineering, and mathematics) fields. We are delighted to have made it this far and looking forward to representing Ireland in June.
CanSat Team
https://www.stcolumbas.ie/wp-content/uploads/2017/05/cansatrocket_1495008938.jpeg
538
720
St. Columba's College News Archive
https://www.stcolumbas.ie/wp-content/uploads/2017/04/weblogo.png
St. Columba's College News Archive
2017-05-17 00:00:00
2017-08-15 14:47:44
Victorious Cansat Team Prepare for Europe