Warden's Reflections on the South Africa Expedition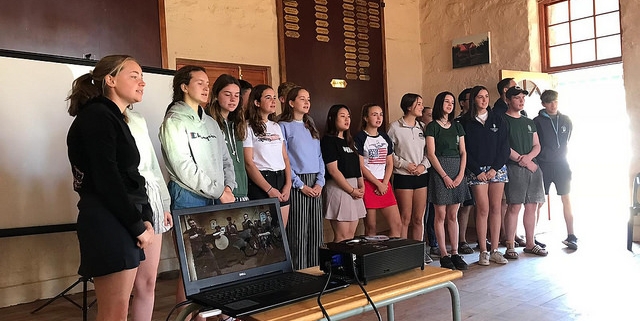 From the Warden, 6th November 2018 (see below post for photographs of the Tiger Kloof expedition).
I have just returned from a week in South Africa, together my wife, Sean Duffy (Head of Geography), and 18 pupils from the 4thand 5th Forms. It was my first return to Tiger Kloof, where we spent four amazing years, and it was wonderful to see old friends. South Africa is a troubled country and it is a land of huge contrasts, with the worst and the best of everything: great wealth and great poverty, often side by side; great hope for the future and great fear of the future; increasing corruption and huge personal sacrifice and generosity.
The main purpose of the visit was to expose the Columbans to a side of life which they have probably never seen and to spend time working on service projects in the informal settlements which are the closest neighbours of Tiger Kloof and from where many of the children come. We spent three days in the soup kitchens, cooking and serving meals, as well as taking food out into the shacks. We also ran activities in the disabled centre in the township and taught in the primary school. But it is not fair to visit a country and see only the problems and the ugly side of life, so we also spent time on a farm, we visited a small game lodge and we went to the African market in Johannesburg. We also went to the Apartheid Museum, albeit too briefly, which is a very sobering experience.
On most evenings we spent time debriefing and talking through our reactions to what we had seen and I was so impressed to hear the pupils talk at some depth and with real mature response to what they had seen and experienced. It is that response that is actually the most important thing and the real reason for taking such a trip. There is always a possibility going on a service trip to a disadvantaged community that one can be accused of voyeurism, of making oneself feel good without making any difference to anyone. So were we just ticking the box so that we can move back into our cosy lives with a slightly clearer conscience? I hope not.
I also used to say to the schools that came to visit Tiger Kloof from around the world that service is not a week on a project, 'doing Africa', or wherever it may be, but service is actually a way of life and should permeate everything that one does. I said that their week at Tiger Kloof should not be the end of their service experience but the start of it and that they should inculcate and maintain that sense of service throughout their lives, in whatever profession they find themselves. It is the same for me…having spent four years out there it is tempting to pat myself on the back and say that I have done my bit, but how do I hold on to that spirit of service in the hustle of this relatively privileged existence?
I have written about service before and about the challenge of inculcating a service ethos in a school that is so busy. Where do we find the time? Well I guess that if we think it is important then we need to make time for it, but being a servant need not start in Africa or in an old age home or homeless shelter in Dublin…it can start right where we are now in our jobs, in our boarding houses and in our relationships. That is where to start and to build muscle, but I know that many of the pupils here have servant hearts and would thrive on the chance to get their hands dirty in a more practical way. Let's see where we go from here. Tiger Kloof is a school known for its spirit of service. Wouldn't it be nice for St. Columba's to have a similar reputation?
https://www.stcolumbas.ie/wp-content/uploads/2018/11/31837295338_e9d2043ce2_z.jpg
480
640
sccdublin
https://www.stcolumbas.ie/wp-content/uploads/2017/04/weblogo.png
sccdublin
2018-11-06 12:32:30
2018-11-06 19:31:09
Warden's Reflections on the South Africa Expedition