Warden's Thoughts … on Robert Lee's Statue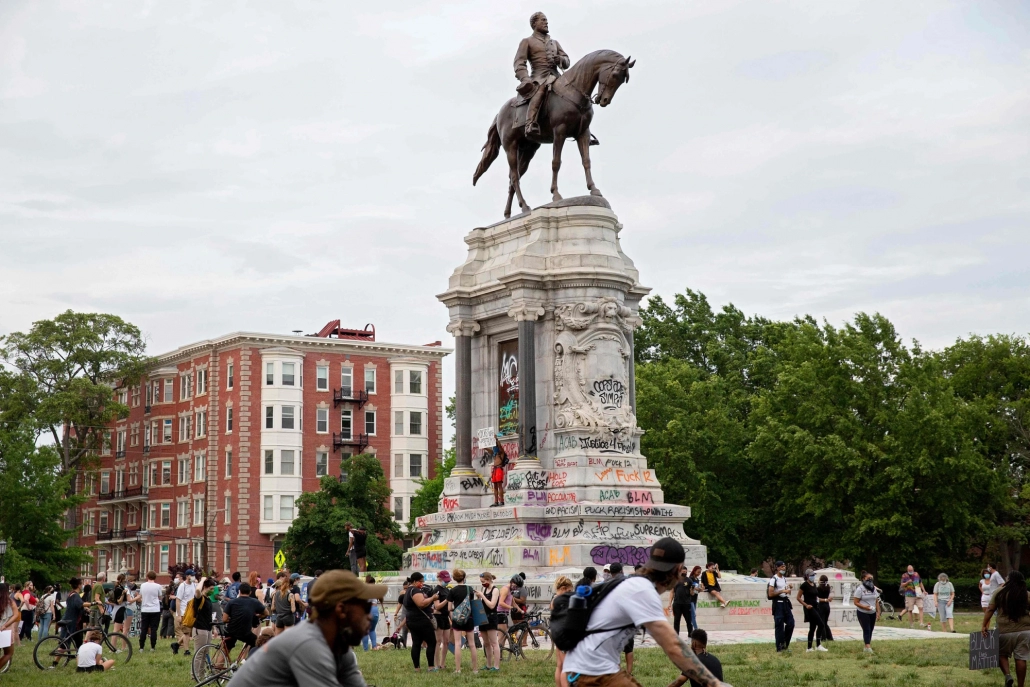 NBA News
I see that the huge statue of the Confederate general Robert Lee, in Richmond Virginia, has been removed from its plinth. That is a significant move. Let me explain.
Robert Lee was the leader of the Confederate armies in the American Civil War, an icon to those who supported the southern American states. He was certainly a great general, as he won great acclaim despite the fact that the southern states were less well equipped than those in the north, but we need to remember that the Civil War was largely fought to preserve the southern way of life, built on a culture of plantations and the right to hold slaves. Virginia was the front line of the south and Richmond its capital.
I visited Richmond in 2013 together with a couple of black pupils from my school in South Africa. We had a tour of the city, visited the slave museum and some of the significant locations from the civil war and also dropped into a black church. We got a picture of a city divided still along racial lines and its most obvious symbols were the statues of Confederate generals that sit in the middle of Confederate Avenue, the most famous of which was that of General Robert Lee. The fact that it has been taken away is therefore of great significance and doubtless would have been very controversial. Indeed, Donald Trump is up in arms about it, so it is probably a good thing.
Confederate Avenue's line of statues is extraordinary for another reason. For a very long time there was one roundabout in the middle that did not contain any statue…perhaps they had run out of generals to celebrate. Then, in the 1990s a campaign was launched to place a new statue on the empty space and the people of Richmond voted to erect a statue of the great black American tennis player Arthur Ashe, a native of Richmond. Those of a certain age will remember him defeating the brash young Jimmy Connors in the 1975 Wimbledon Final, one of the great upsets of tennis history. He was a man of great dignity, who sadly died of Aids contracted from a blood transfusion in his late 40s. As you can imagine, putting up the statue of a black tennis player in the centre of the line of Confederate generals was very controversial, but there it stands to this day, testimony to one of the great fault lines of American society.
Tearing down statues always stirs debate, particularly from the lobby that cries out that their history is being expunged. However, statues are symbols of what society values and their public presence can sometimes create great hurt. Rather than tearing them down, it makes sense to me, in many cases, to move statues to museums or other spaces where they can be discussed and put in their context. I am sure that Robert Lee's statue will appear elsewhere at some point and continue to give rise to lively debate, but his removal does send a good message to the large black population of Richmond that their concerns have been heard and addressed.
On that same visit, we were privileged to be welcomed on Capitol Hill, by Congressman John Lewis, one of the greatest of the civil rights activists, who had been arrested up to 50 times for his protests. I think he is possibly the finest person I have ever met and spent time with, as he talked to us for 30 minutes about his career and his guiding principles.
It is easy to look at the United States and point the finger, but that can also deflect from us looking at the historic injustices in our society and the often shameful history of racial abuse perpetuated closer to home. I should know…I am British! And, even more important and appropriate, we need to look at our own society and our own community and see where we can still learn and improve.
Read more from the Warden's blog here.
https://www.stcolumbas.ie/wp-content/uploads/2021/09/200608-robert-e-lee-richmond-ew-433p.webp
1334
2000
sccdublin
https://www.stcolumbas.ie/wp-content/uploads/2017/04/weblogo.png
sccdublin
2021-09-13 09:51:42
2021-09-13 09:52:58
Warden's Thoughts … on Robert Lee's Statue