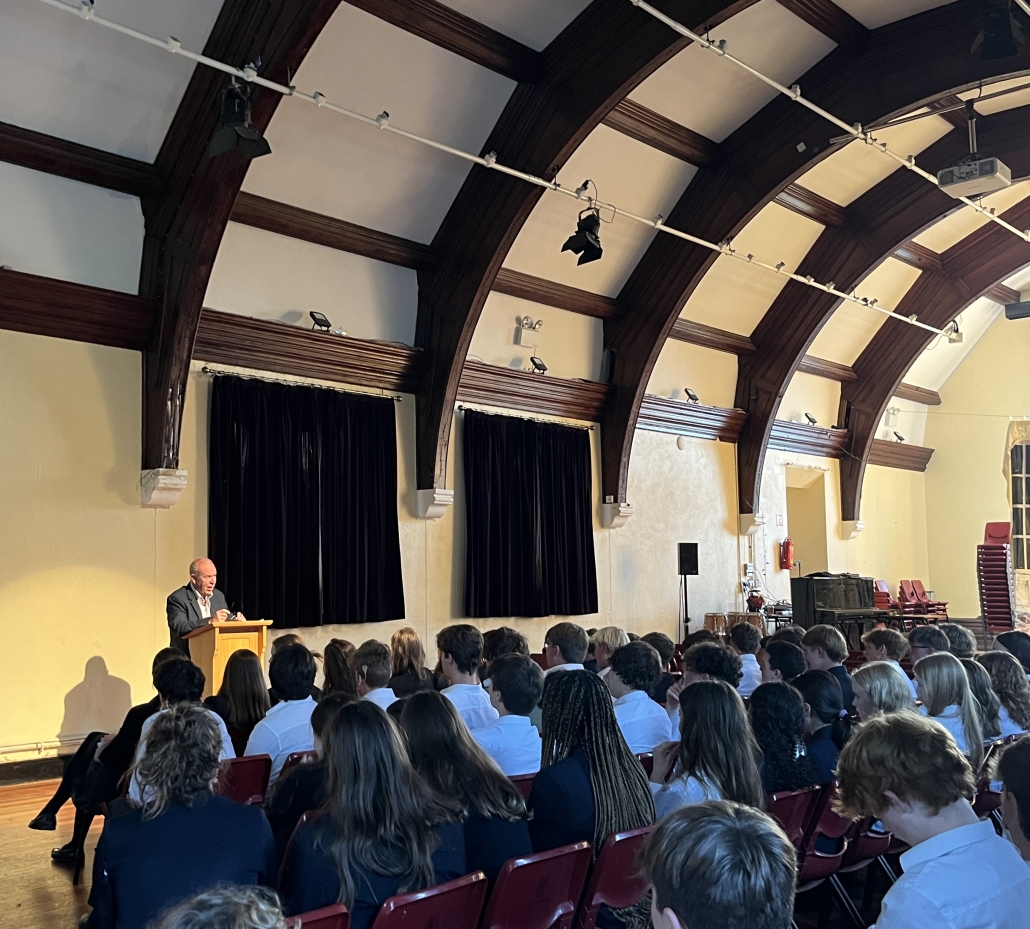 On the evening of Tuesday 30th May we had the 28th annual Transition Year English evening in the BSR (and so, with two years out for pandemic reasons, this event started 30 years ago). The formula has remained little changed: pupils read out interesting work they have written during the year, and a guest speaker associated with English comments on this, and speaks on wider issues. There is no competitive element: this is a pure celebration of writing. At the end of the evening the pupils receive their year's grades.
This year our guest (who had also come several years ago) was Mr Toirleac O'Brien, former English teacher at Blackrock College (his comments are in brackets after each speaker). The evening was compèred by Mr Jameson.
The first reader was Ava Fagan, with a special memory this year about a scuba-diving trip (so richly descriptive – wonderful). She was followed by Melina Paulsen, who wrote about her first Irish train journey (a delightful piece, with entrancing dialogue). Clodagh Walsh was third, with a short story including the sentence 'Suddenly there was no noise' (it opened effectively in the middle). Amaya Street wrote about her memories of her early homes (this looked at how your life might have turned out differently). Jamie Casey then read Alba Perich's story of first love (very bravely!), followed by a very different piece, Manuela Nassief's 'Waterfall' (with incredible observation, a remarkable piece of writing). Aeladh Bradley-Brady next read her highly 'imaginative' piece about losing one sense – hearing. Finally, Iona McCausland wrote on a long-time favourite personal topic, 'The Oldest Person I Know', in her case her complicated grandmother (it was deliciously eccentric, with a lovely way of seeing things).
Mr O'Brien then gave us some heart-felt sentiments on the future of writing and reading, particularly given the new AI world we have moved into so recently. His passionate advocacy for books was striking. He finished by commending all the readers on their bravery in reading so personally and intimately in front of their peers.
Finally, congratulations to the Premier Award winners: Aeladh Bradley-Brady, Cajetan Cardona, Carlotta Castagna, Amber Cotton, Ava Fagan, Emilia Hager, Manuela Nassief, Melina Paulsen, Shannon Walker Kinsella, Clodagh Walsh, Alison Wang and Johanna zu Solms.
https://www.stcolumbas.ie/wp-content/uploads/2023/05/IMG_1890-2-scaled.jpg
2309
2560
sccdublin
https://www.stcolumbas.ie/wp-content/uploads/2017/04/weblogo.png
sccdublin
2023-05-31 15:12:45
2023-06-01 14:01:01
Transition Year English Evening 2023