The first four full weeks of term have zipped by and every member of the school community, teachers and pupils, have been extremely busy, on all matters. On the sports field this has been particularly evident with pupils participating in six days of compulsory sports each week. The College sports programme is second to none, with pupils participating in a wide range of competitive and non-competitive sports. The main College sports for the first two terms are rugby, hockey (boys & girls) and basketball (boys and girls) although pupils are also actively involved in polocrosse, archery, AGC and, more recently, sailing.
Hockey is a very popular sport in the College and we have seen a lot of success, at both Junior and Senior, for the boys' and girls' teams. However, the boys Senior XI team have had mixed success this season, with a good win against a Wesley B side (2-0, goals from Marc Philipp Eichhorn and Ivan Moffitt) after a tough loss away to St. Andrew's A/B side (3-0). However, the most disappointing results so far were on Thursday last, when the boys hosted the All Ireland Qualifiers against Newpark Comprehensive & Kilkenny College. The first game was tight with Newpark winning 1-0, despite a lot of chances from the home side. However, SCC lost their shape in the second game losing to Kilkenny 3-0. Sadly they won't be travelling to the All Ireland competition this year.
The girls Senior XI have had a solid start to the season, winning one game and losing one game. The win came against Mount Temple, winning on a scoreline of 4-2, with Kitty Morris scoring twice and Abigail O'Brien & Ella Noeldeke adding the others. The loss came against Loreto Bray, on a scoreline of 1-2 (Ella Noeldeke getting the SCC goal). It was a whitewash that day, with the 2nd XI and 3rd XI also losing to Loreto Bray. The girls Junior A side have played two games so far this, winning 2-1 against near neighbours Wesley College (Eile Ni Chianain & Aurora Higgins-Jennings with the goals) but sadly losing 0-5 against Mount Anville.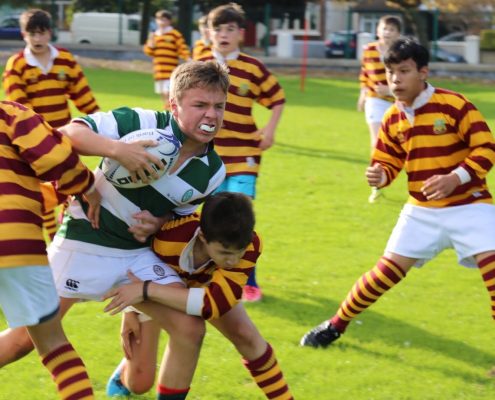 The rugby season is already in full swing and our teams are showing great promise. The Senior Cup Team (SCT) and Junior Cup Team (JCT) have begun their league campaigns, while the Ducks (1st year boys) have been involved in a round robin tournament with near neighbours De la Salle Churchtown.
The Senior squad got their season off to a promising fashion, although their game against a Wesley Development XV did end in defeat (21-20). Max Hopkins and Hector Wright both scored powerful tries in the first five minutes but both conversions were missed – both relatively straightforward. Their coach, Mr. Mitchell, made a lot of changes to the side, ensuring all members of the squad got a run out. This did mean the team lost a bit of shape and structure and Wesley came back into well. Hector and Max both crossed for late tries but further missed kicks proved the difference. They received a walk-over in their first league fixture, scheduled for last week, but got to stretch their legs in a friendly game against De la Salle Churchtown on Thursday last winning by a scoreline of 26-14, with tries from Max Hopkins, Ferdinand Kuenhe, Tobias Onyeka-Patrick and Hector Wright. Thady McKeever added three conversions. It was a fantastic game, with excellent attacking rugby on show from both teams including a stunning individual try at the death from the De la Salle out-half.
The Junior squad played their first game of the season away to Terenure College, playing their Junior 3 team. It was a comfortable win for the visiting team with six tries in total scored by the Columbans (Scorers: Mikael Sukhachev, Clement Jacquot, Ben Sigurvinsson, Leo Moreau, Harry Petch & Henry Johnson, conversions by Matthew Russell 3 & Ollie Townshend). The game ended 38-0 and it was very encouraging to see the boys keep a clean sheet. Confidence was high heading into their first league fixture, again against near neighbours De la Salle Churchtown. Columba's started really well and were in full control of the game in the first half. With 20 minutes remaining they led 20-10, after tries from Thomas Somerville and Matthew Russell, both converted by Russell and an additional two penalties (also by Russell). However, the referee handed Columba's two yellow cards in quick succession, both for high tackles, and the game swung to the visiting side. They scored two tries and won the game 20-27.  A harsh lesson for the boys.
The Ducks also played their first few games of the season, this time away to De la Salle Churchtown.  As there were only 6 training sessions since the start of term, the boys played small sided games on a half pitch as they hadn't practised the technicalities of rucking and mauling or the set-pieces of scrums and line outs. In the bright warm September sun the boys were divided up into two squads (the Lions and the Barbarians). They both played two matches and won one each. This was a good start to the season with many work-ons noted by the coaches. The Leps will play their first match after exodus – a lot of new pupils skill finding their feet there.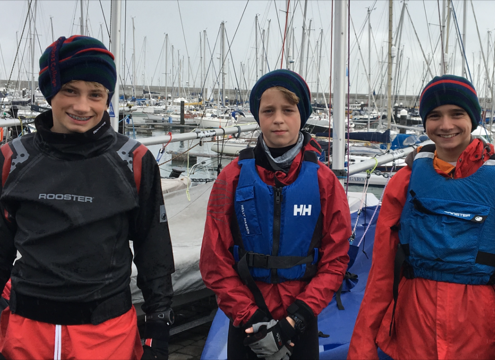 In basketball, it's been a fairly solid start for our Senior Boys and Cadette girls, with a tight win over Wesley for the boys 49-48 and the girls kicked off their league campaign with a 21-18 win over St. Andrews. As reported last week, the College sailing team did the school proud at the All Ireland Inter-Schools Sailing Event. Click here to find out more.
https://www.stcolumbas.ie/wp-content/uploads/2017/09/Hok-Snr-v-Kilk-Sep2017-108-of-103.jpeg
855
1280
sccdublin
https://www.stcolumbas.ie/wp-content/uploads/2017/04/weblogo.png
sccdublin
2017-10-02 15:23:58
2017-10-02 15:23:58
Sports Round-Up