European Youth Parliament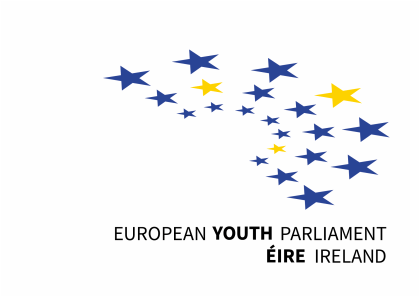 Caoimhe Cleary reports on her recent experience at the European Youth Parliament. 
Earlier this term Harry Oke and I were invited by Ms Duggan to take part in an event called "The European Youth Parliament". The European Parliament in essence is a simulation of the EU democratic process, and seeks to show its participants how legislation is actually passed in Europe. This is done by separating everybody at the event into the different committees and giving each group a motion. We then had two days to develop and prepare to argue for the implementation of our policy. I would fully recommend this event to everybody for two main reasons.
Firstly, this was a really informative and educational experience. I feel as if I really understand how legislation and bills are both put forth and denied now and, as someone who isn't a European native, I walked away with a much greater understanding of the European system. It also helped train my ability to work with others to develop and defend a debating motion. I also learned how to argue against an argument in real time.
The second reason I would encourage somebody to attend EYP would be just because of how fun it is! As dull as taking part in the European democratic process may seem, it's surprisingly enjoyable! The organisers and team leaders are very friendly, and you really do make friends! The friends I made I am still in contact with today. There was also a disco on the second day, which was amazing. I'm still not sure which part of the legislation process that fits in with.
https://www.stcolumbas.ie/wp-content/uploads/2017/11/1473624407.png
297
420
sccdublin
https://www.stcolumbas.ie/wp-content/uploads/2017/04/weblogo.png
sccdublin
2017-11-21 23:38:34
2017-11-22 08:58:24
European Youth Parliament