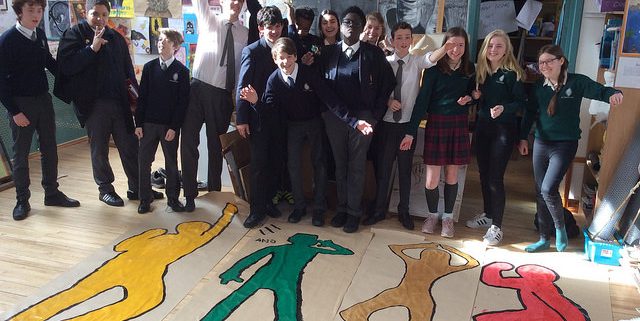 Arts week kicked off yesterday with Thibault Loiez (former French teacher) returning to spend the afternoon doing caricatures of pupils. These will be strung up across the dining hall from tomorrow.
Sadly the opening of the Guest Artist exhibition scheduled for Monday night had to be cancelled as the snow meant no-one could get up to St Columba's to hang the work on Thursday and Friday. We hope to put the exhibition on in May instead.
Today we had a fantastic day. Primary and First Form spent part of their morning with artist and astronomer, Deidre Kelleghan, learning more about the Apollo moon landing. Then on black paper with chalk pastels and using a couple of images as inspiration, they produced some wonderful drawings.
While this was going on we had eighty children from four primary schools arriving to take part in the Primary Schools Choral Day. They spent the day learning various everything from Shosholoza (a song in Zulu from South Africa) to a 'mash up of some well known pop songs! The day finished with a fabulous concert featuring the visiting schools, our Junior Choir, Sine Nomine, various soloists and our male staff a capella quartet. A big thank you to Eunan MacDonald.
Our Fourth Form art students students enjoyed a workshop with one of the Stoney Road print makers.
Tomorrow (Wednesday) we host fantasy author Ruth Long who will share her work with Primary, First and Second years. We have the rescheduled concert with Mr McCarthy on the piano and Mr Finn singing in the Cadogan at 6.30pm. There is also a visit for senior pupil artists to Stoney Road print studios during the afternoon.
Despite the snowy weekend which put a bit of a dampener on the start of Arts Week things have definitely revved up!
Below are a selection of photos from the week's events, which will update frequently as new photos are added.
https://www.stcolumbas.ie/wp-content/uploads/2018/03/39756540885_872c2480de_z.jpg
478
640
sccdublin
https://www.stcolumbas.ie/wp-content/uploads/2017/04/weblogo.png
sccdublin
2018-03-06 16:00:57
2018-03-09 11:37:55
Arts Week Kicks Off