Antonia Bullrich and Isabelle Townshend write short reviews on recent art gallery expeditions – the Grayson Perry exhibition at the RHA and the Emil Nolde exhibition at the National Gallery.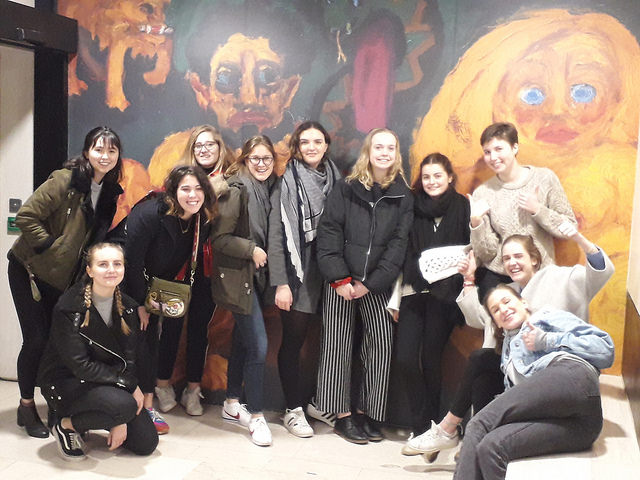 Last Thursday, the senior art pupils visited the RHA for the Grayson Perry exhibition. Grayson Perry is a British contemporary artist. He is known for his tapestries, vases and for cross-dressing. The exhibition is called The Vanity of Small Differences and it consists of six tapestries expressing modern life based on classical paintings. Perry is very interested in the emotional attachment we place on objects. The tapestries were hung up in a very spacious white room and each of the colors stood out individually. Each one told a story about the different social classes, and some harsh truths were depicted. As I walked around I realised each tapestry had small details that are hard to notice but they are exceptionally meaningful. When I gave each one of them a second look I noticed one or two new details I hadn't noticed the first time around. Overall it was an amazing exhibition and we really enjoyed the day.
Last Thursday, the fifth and sixth form art pupils went to the Emil Nolde exhibition in the National Gallery of Ireland. Nolde was a German expressionist and at the time (1867-1956) which an attempt to creat a new style of painting. Nolde was so daring for his use of colours and topics that he painted. His paintings have a way of speaking to you in a way that I have never experienced before. For example in his self portrait of himself his piercing blue eyes feel like they are staring into your soul. The gallery was split into five sections ranging from paintings based on his homeland to when he went travelling. The most appealing section to me was called 'conflict' in which he painted his view on religious events which would have been really outrageous at the time. My favourite painting has to be Nolde's interpretation of Adam and Eve, the use of colours and form of Adam and Eve is really interesting to look at. I would recommend this exhibition to anyone.
https://www.stcolumbas.ie/wp-content/uploads/2018/03/38885392680_4d8bba9abc_z.jpg
480
640
sccdublin
https://www.stcolumbas.ie/wp-content/uploads/2017/04/weblogo.png
sccdublin
2018-03-20 20:10:56
2018-03-20 20:10:56
Gallery Expeditions