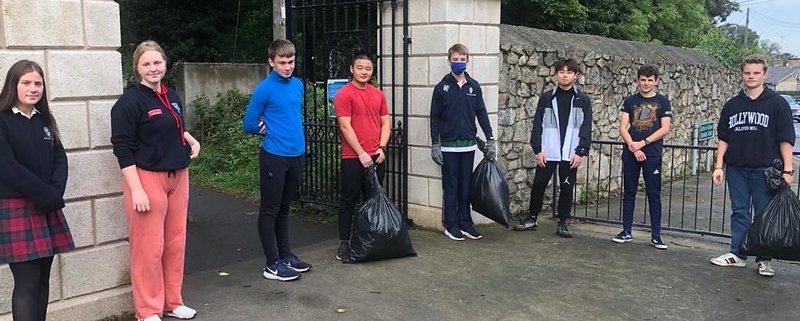 The current COVID-19 restrictions have meant the Transition Year Co-ordinator and her team have had to be more imaginative in their organisation of the year's various activities. The Transition Year at St. Columba still places a strong focus on academic work but, like many other schools, there is a greater focus on community outreach, physical exertion, building a service culture, team building and extra-curricular activities. Catering for these activities is a challenge in the current climate, but not impossible.
We were delighted that our annual TY team building event at Causey Farm was still able to go ahead, with the Causey Farm team putting strong procedures in place to protect our pupils and staff. Elys Walker wrote a detail report on this last week which can be read here. Another great team building activity was the drone video where the Transition Year pupil paid tribute to the work of health workers across Ireland and Europe. It's been viewed over 18,000 times on our Facebook page – click here to see it.
Another whole year event was a recent hike to Fairy Castle, the peak of the nearby mountain complex. Kate Higgins writes this report:
We left at 8:30 that morning and the mist was so heavy that it was difficult to see. We were lead by Mr. O'Shaughnessy, Miss.Lynch and Mme. DeFréin and left the College through the front gate. We turned left up Kilmashogue lane and walked up the surprisingly steep hill towards Ticknock. We were then on a forest trail and the trees looked eerie in the morning light with the heavy mist. It wasn't too cold or windy when we were walking in the forest but once we got out into  the open to walk towards Fairy Castle it was freezing. The wind was  strong and the mist was still too thick to see very far. We came back down on a slightly different route over a path of rocks. Once we got back into the forestry we were sheltered from the wind again. We then made our way back to the college after a very fun and enjoyable walk on the mountain right at our doorstep. Many thanks to those who organised it and joined us. 
We were delighted to once again welcome John Lonergan, the former Governor of Mountjoy Prison, to speak with the Transition Year pupils recently about drugs, crime and his time in the prison. The pupils enjoyed John's gentle tone in what was a wide-ranging talk. We thank him for his time.
Nikolai Foster reports on the recent series of litter clean-ups undertaken by the Transition Year pupils, who are taking part in the Gaisce challenge series.
"As part of the community involvement for Gaisce, we went litter picking. We went down the back entrance and into Marlay Park. We litter-picked along the paths as well as in the bushes, where a lot of stuff is dumped. We continued out of Marlay and went along the road, finding crisp packets and beer cans along the way."
We are grateful to the Dún Laoghaire–Rathdown County Council for donating litter picking equipment to the TY.
Academic work continues but there is greater freedom to explore aspects of tradition subjects. Verlaine Bolger reports on an interesting activity in her Spanish lessons recently.
"Today in TY Spanish class we made "chocolate con churros". We decided to research Spanish recipes and make this popular Spanish dessert. We split up into three groups, as we had to socially distance. One group started by melting the chocolate in the simmering cream, the second group weighed the flour, butter and mixed this with water and an egg, while the third group were taking care of heating the pans and adding the oil etc…. We ended up with the dough and then piped it into the hot oil. It quickly took shape and the final result, deliciously freshly made sugary churros!! We dipped the churros into melted chocolate and everyone really liked them. The churros were a great success, everyone participated and had a great time! This was my first time making churros and I was very proud of my efforts".
There have also been opportunities to try new subjects this year, including our new formal lessons in Mandarin.
In summary, it's already been a busy time for the Transition Year pupils and we have been delighted with their efforts to engage with the various activities, despite the challenging environment. Well done!
Below is a photo album of all Transition Year events which will be updated as the year progresses.
https://www.stcolumbas.ie/wp-content/uploads/2020/10/50361772368_4cb237b9af_c.jpg
648
800
sccdublin
https://www.stcolumbas.ie/wp-content/uploads/2017/04/weblogo.png
sccdublin
2020-10-08 14:12:20
2020-10-10 12:48:40
Transition Year Update