Táimid ag ceiliúradh Seachtain na Gaeilge ar aon leis an tír go léir. Ar ndóigh, caithfear na gníomhaíochtaí go léir a bheith déanta go fíorúil. Tá súil againn go nglacfaidh gach duine páirt – ní gá Gaeilge a bheith agat!
We are celebrating Seachtain na Gaeilge ("Irish week", it actually lasts for two weeks!) along with the rest of the country. Obviously, all activities will have to be carried out virtually. We hope that everyone will take part –  you don't need to know Irish!
Comórtas póstaeir: tarraing póstaer a leiríonn seanfhocal /
Toraíocht Taisce: faigh na rudaí ar an liosta agus déan colláis astu / Treasure Hunt: find the things on the list and make a collage from them.
Dialann Sheachtain na Gaeilge: tabhair faoi deara na focail agus nathanna nua a fheiceann tú, a fhoghlaimíonn tú, a chloiseann tú, a deir tú, a deir daoine eile, a sheolann tú / Seachtain na Gaeilge Diary: note down the new words you see, you learn, you hear, you say, others say, you send.
Focal an lae (15 Márta ar aghaidh): focail Gaeilge a choistear sa Bhéarla in Éirinn / Word of the Day (15 March onwards): Irish words that are heard in English in Ireland
Tráth na gCeist (sna ranganna Gaeilge idir an 1 agus an 17 Márta) / Table Quizzes (in Irish classes between the 1st and 17th March)
SCC Gaeilge ar Instagram: leathanach nua atá bunaithe againn chun an Ghaeilge a chur chun cinn mar theanga bheo, spraíúil, thaitneamhach, nua-aimseartha. Lean muid! Beimid ag lorg ealaíontóirí a bheadh sásta pictiúr próifíle a dhearadh dúinn le linn Sheachtain na Gaeilge. / SCC Gaeilge on Instagram: a new page we have set up to promote Irish as a language that is alive, fun, enjoyable and modern. Give us a follow! We will be looking for artists to design our profile picture during Seachtain na Gaeilge.
Among Us as Gaeilge: Beidh daltaí na tríú bliana ag cur liosta foclóra le chéile ionas go mbeidh sibh ábalta 'Among Us' a imirt trí mheán na Gaeilge / Among Us in Irish: Third Year pupils will be putting a list of vocabulary together so that you will be able to play 'Among Us' through Irish.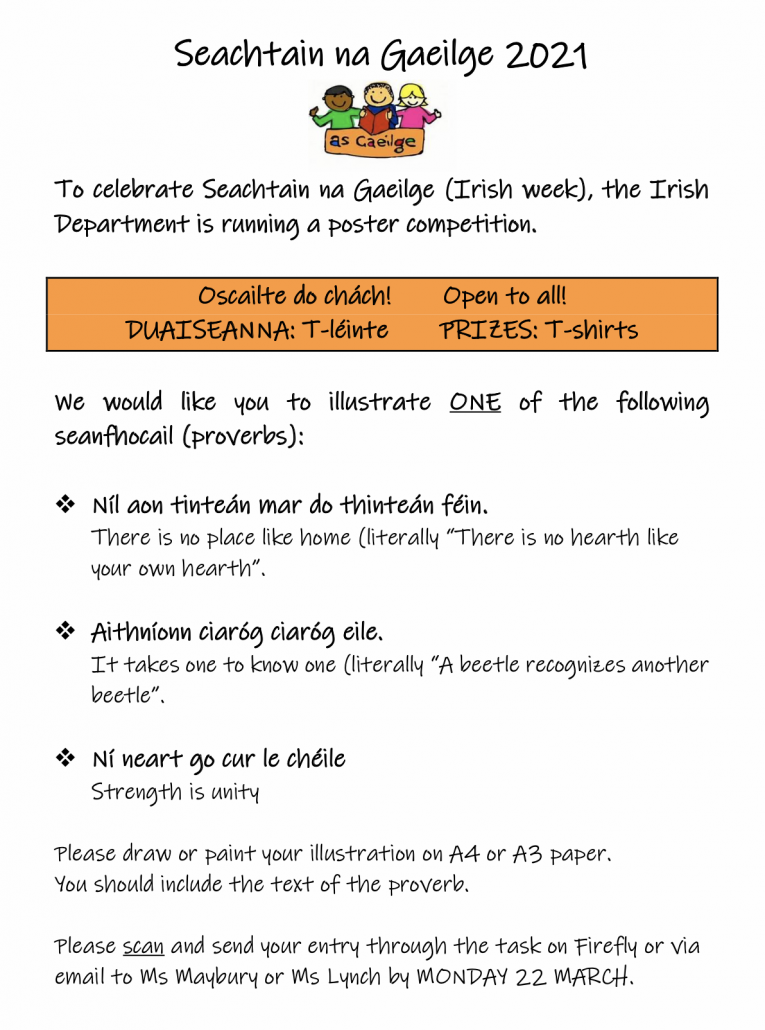 https://www.stcolumbas.ie/wp-content/uploads/2021/03/snaglogo2020.png
220
792
sccdublin
https://www.stcolumbas.ie/wp-content/uploads/2017/04/weblogo.png
sccdublin
2021-03-08 17:50:20
2021-03-08 17:50:20
Seachtain na Gaeilge