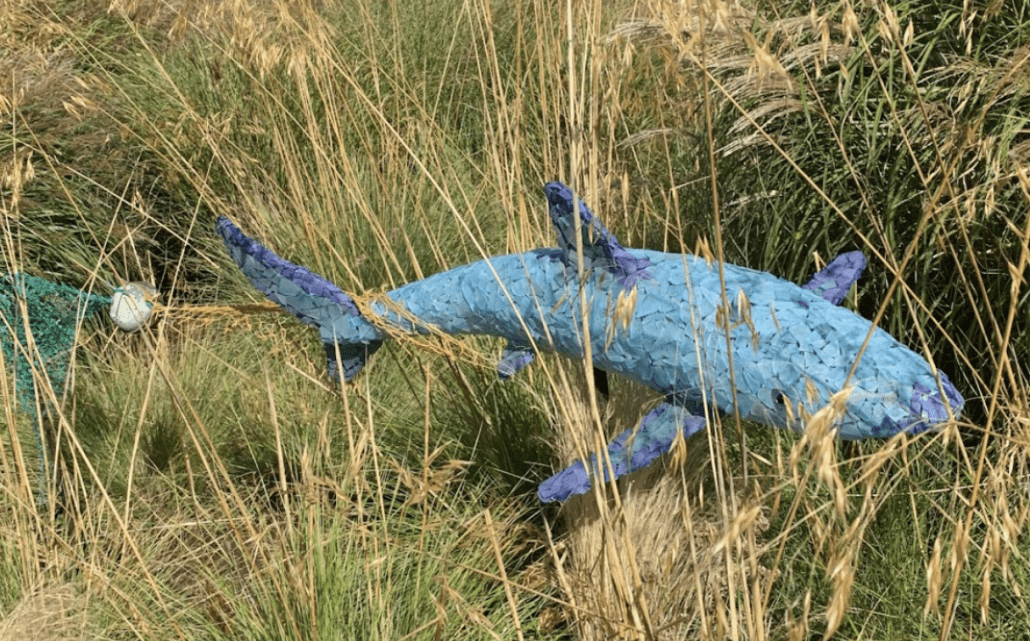 Form IV pupil Aeladh Bradley Brady reports on the recent art expedition to the National Botanic Gardens.
On Friday the 16th of September the Form IV art pupils went on an outing to the National Botanic Gardens in Dublin to see the art exhibition, Sculpture in Context. The purpose of this trip was to get inspiration for our own artwork and exhibition based on the Sustainable Development Goals. 
Once we arrived we were separated into two groups and each group was accompanied by a tour guide to show us around and tell us about the individual pieces. The tour guides were very interesting and had extensive knowledge of all the pieces we visited. This made the trip thoroughly enjoyable.  
Some of the art work was intricately made, such as a shark piece that was made out of recycled seaglass. A mother and son collected the seaglass over eight months and created the piece during lockdown. 
After the tour of the outside area we were led by our guide into a separate room. Large transparent plastic sheets hung from the ceiling almost in the format of a maze. The transparent plastic created a distorted view which represented the media and how everything is not always as it seems. This piece felt quite ominous and yet the idea was so simple. It really goes to show when you really look into a piece many deeper meanings can appear. 
This outing really helped us develop new ideas and concepts for our own pieces that we will be able to make soon. It was an eye opening experience to see that with the simplest of recycled resources you can create art.
Thank you very much to Ms. Murphy and Ms. Cullen for organizing and supervising such an enjoyable art trip.
https://www.stcolumbas.ie/wp-content/uploads/2022/09/Screenshot-2022-09-29-at-10.40.40.png
756
1214
sccdublin
https://www.stcolumbas.ie/wp-content/uploads/2017/04/weblogo.png
sccdublin
2022-09-29 10:55:25
2022-09-29 10:55:25
Art Exhibition – Sculpture in Context