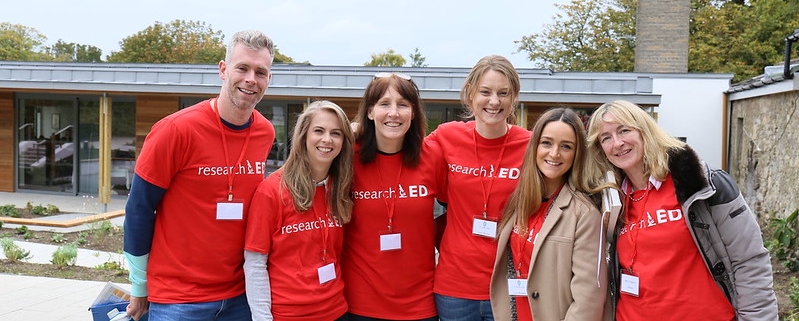 On Saturday last, October 5th, the College hosted a researchED conference, the first time this international educational movement has been to Ireland, South or North. 350 educators, including 30 speakers, were joined by 25 of our own staff from morning to late afternoon going to presentations by world-class speakers from England, Scotland, Sweden and Belgium, as well as many presenters from all over Ireland (Derry to West Cork to Wexford to Dublin to Armagh). The programme can be seen here.
researchED Dublin (joining venues in the UK, USA, Australia, Sweden, Holland, Italy, Dubai, Chile, Switzerland and South Africa, with China coming) opened in the brand-new Whispering House at registration, with delegates arriving from 7.30am on (most of course were Irish, but we did have visitors from Switzerland, the UK and even Australia), collecting programmes and having coffee and eats provided by our superb caterers Sodexo. Then the conference proper started in the Big Schoolroom, with everyone being welcomed by the host and organiser, the Sub-Warden. Tom Bennett, founder of researchED, spoke about his delight in being in Ireland at last and gave an account of researchED's purpose. He then handed over to the keynote speaker, Daisy Christodoulou, author of Seven Myths about Education and Making Good Progress? She showed how cognitive science has had a profound impact on teaching and learning.
After that, delegates chose from 6 strands, with sessions taking place in the BSR, the Cadogan, the Science Lab, the Physics Lab and the Biology Lab. Renowned speakers like Tom Sherrington, Mary Myatt, Alex Quigley, Pedro de Bruyckere and David Didau were interspersed with first-time presenters such as Conor Murphy, Kate Barry and Leona Forde. One of the exciting things about researchED events is how academic researchers meet and interact with classroom teachers, and the former here included University of Limerick researcher Dr Ann Marcus-Quinn and Ulster University's Dr Victoria Simms (she speaks on the video).
A wonderful lunch (the perfect time to network and chat to strangers about common interests) was followed by three sessions in the afternoon, culminating in Carl Hendrick's excoriating and hilarious dismantling of feeble pedagogy which sells children short. In the evening, the presenters came back together for dinner in town.
Reaction on the day was immensely positive, and online even more so: read this collection to get a flavour of what has been said since.
Many thanks to Ian O'Herlihy for the video of the day at the top of this post, and Daniel Owen for the photographs below.
https://www.stcolumbas.ie/wp-content/uploads/2019/10/48858327213_85ca430ded_c.jpg
533
799
sccdublin
https://www.stcolumbas.ie/wp-content/uploads/2017/04/weblogo.png
sccdublin
2019-10-08 17:17:42
2019-10-08 18:07:42
researchED Dublin Report