Senior Play 2022: Blithe Spirit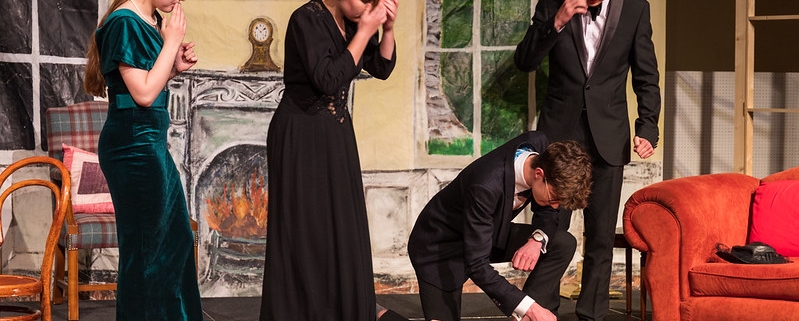 Senior Play: Blithe Spirit by Noël Coward
a review by Hannah Bergmann, Fifth Form. Photographs by the Reverend Daniel Owen
November 10th, 11th, 12th 2022
As soon as the BSR was filled with pupils, teachers, and parents, you could feel the positive excitement and anticipation of the audience for the upcoming play, the first full production since 2019. The stage had been transformed into an old-fashioned-looking room waiting for the first actor to appear. When the lights were turned off and the first tunes of the music appeared the spotlight was directed onto the centre of the stage, making the audience curious about what was going to happen in the next two hours.
From flirtatious ghosts to flying cucumber sandwiches, it was all there. Blithe Spirit is about Charles Condomine, played by Nikolai Foster, whose ex-wife, the ghost Elvira, (Isabel Warnock) is conjured up by the experienced medium Madame Arcati (Phoebe Landseer). This evoked a very well-expressed jealousy in Ruth Condomine (Emily McCarthy) as the current wife of Mr. Condomine and Isabel, relishing the discomfort she has created coming back from the afterlife. What followed was a darkly funny competition between two women, one dead, one living.
The whole cast showed great acting skills from the catchy "Yes, Madam" of the maid Edith, played by Anna Naumenko, to Emily McCarthy who conveyed the emotions of Ruth very well so that the audience could feel how jealous and outraged she was. But especially Phoebe Landseer captivated the audience. The entire room seem to engage in the play by laughing at the jokes which showed that the whole evening was thoroughly entertaining. One moment everyone will remember is probably the scene where Madame Arcati threw a cucumber sandwich into the crowd which caused great amusement.  Nikolai Foster was a great fit for the central character of the play, Charles Condomine, because the audience could really feel his emotions such as the relief he presented in the end when both women disappeared
The visual aspect was provided by the fantastic costumes which transported the audience back to the 1940s in London. While the women were dressed in beautiful long dresses one of them an elegant black one, worn by Violet Bradman (Diana Doenhoff), the men were dressed up in noble suits such as the one worn by Lorne Walsh who played Dr George Bradman. Towards the end of the play a mysterious scene caught the crowd's attention as the shutters of the background rattled fearfully. But who had opened and closed them? This will forever be a secret.
The whole performance was a great success and everyone noticed the effort that was put into the production of this entertaining and enjoyable play. Therefore, a big thank you goes out to the cast as well as Messrs Ronan Swift and Tristan Clarke who directed the whole play. It was a great way to spend a Saturday night! 
Charles Condomine: Nikolai Foster
Ruth Condomine: Emily McCarthy
Elvira Condomine: Isabel Warnock
Madame Arcati: Phoebe Landseer
George Bradman: Lorne Walsh
Violet Bradman: Diana Doenhoff
Edith: Anna Naumenko
Daphne: Alice McCarthy
Lighting and Sound: Messrs Julian Girdham and Ronan Swift
Backdrop: Ms Lynn Murphy, Ms Derarca Cullen and TY Pupils
Costumes: Ms Elaine Healy, Ms Megan Kilpatrick and Abbey Costume Hire
Props and Staging: Ms Elaine Healy, Ms Megan Kilpatrick and Abbey Costume Hire
Stage Hands: Alice McCarthy, Lexi Hunter and Josefien Hutchinson
Artwork: Georgia Goodbody
Directors: Messrs Ronan Swift and Tristan Clarke
https://www.stcolumbas.ie/wp-content/uploads/2022/11/52499415270_2f17a6cb6f_c.jpg
533
799
sccdublin
https://www.stcolumbas.ie/wp-content/uploads/2017/04/weblogo.png
sccdublin
2022-11-16 11:28:46
2023-03-24 21:02:49
Senior Play 2022: Blithe Spirit