St. Columba's SCT & JCT Rugby Teams Lose Tight Cup Matches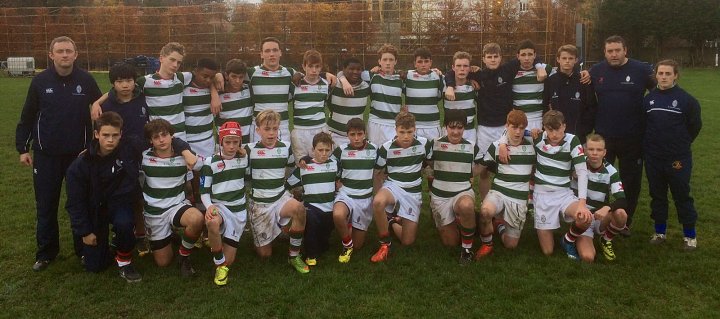 Both the JCT and SCT Rugby teams played their first round cup matches this week. On Monday, the JCT took on St. Conleth's at Wanders RFC in the first round of the Duff Cup. St. Conleth's had lost out to SCC after a replay last year – two fantastic games – and revenge was on the cards and, as they say, it's best served cold.
St. Conleth's started the game with intent and soon were on the scoreboard. Their outside centre was a pacey and elusive runner and he bamboozled the SCC defence. He sailed past some despairing Columba's tackling, outrunning them on the outside, and then converted his own try – there was barely a minute on the clock. To their credit St. Columba's regrouped and resorted to keeping the game tight – their pack on the ascendancy. The pressure told and St. Columba's were soon on the scoreboard through Jose Fominaya. Captain Thady McKeever couldn't convert the try but it mattered little (or so we thought) as Jose dotted down again shortly afterwards for SCC's second score. This time Thady added the extras and they were leading 12-7 at half time.
St. Conleths changed their tack in the second half, also keeping it tight, and soon their forwards were rewarded with a try of their own. It wasn't converted and the game was on a knife edge at 12-12. But St. Columba's regrouped again and soon started the dominate up front again. Sam Lawrence finished off some good forward work smashing over the line to score. Unfortunately, Thady couldn't add the vital extras and the game was still up for grabs. After the try St. Columba's remained dominant and were camped firmly in Conleth's half as the end of the match approached. All they needed to do was hold on to possession and the game was theirs. Sadly, Conleth's turned the ball over with a minute on the clock and it made it's way to their outside centre who simply had too much gas. He was not going to be stopped. With the game at 17-17 and the clock up, St. Conleth's had an easy conversion to win the game. They scored it and celebrated. St. Columba's were left dejected. The JCT will now enter the plate competition with a chance of silverware still on the cards.
The SCT Squad travelled to Gorey RFC on Wednesday to take on Coláiste Bríd from Carnew  – a team SCC had never faced before in a competitive fixture. With confidence high after a relatively good start to the season (and despite a recent drubbing by Wilson's Hospital) the squad left SCC in a determined mood. It has been a number of years since St. Columba's have managed to win a McMullen Cup fixture and this group of players, led by Max Hillary, were eager to end that losing run.
With the wind at their backs St. Columba's began intent on keeping the ball in hand and backing their skills. However, they tried to play too much rugby in their own half, never really playing the possession game well throughout, and basic errors allowed Carnew easy and continuous possession in opposition territory. A penalty from Carnew pushed them to a slim 3-0 lead before Captain Max Hillery suffered a knee injury just before the half time whistle. It was a big blow and  forced the game to be moved to another pitch. The second half continued along similar lines as the first with St. Columba's still pitched in their own half. They really struggled to string phases together and adapt to the referee. Eventually Carnew's pressure told and they scored an opportunistic try from a basic defensive error at a line out. They failed to convert. The score was 8-0. SCC lost Freddie Johnson to a shoulder injury and all seemed lost. But finally, with 10 minutes left on the clock, St. Columba's began to play territory, kicking the ball behind the Carnew defence and putting themselves in field positions to attack. Sustained possession and pressure told and St. Columba's were awarded a kickable penalty – Hector Wright slotting it over to bring it to 8-3. With 5 minutes to go the momentum had swung in SCC's favour and they were camped in Carnew's 22 for this period. However, a lack of composure and some basic errors let them down and they never got over the line. Carnew won a relieving penalty close to their try line (for "squeeze ball" – an offence punished a number of times for both teams throughout the game – we should have adapted) and held out to win.
St. Columba's returned home licking their wounds and wondering what happened. They too enter a plate competition next term but will need to learn to show composure in big knock out games if they are to progress.
Two narrow losses but lots of potential. Cup rugby never fails to deliver drama.
https://www.stcolumbas.ie/wp-content/uploads/2016/11/jctcup_1479555001.jpg
319
720
St. Columba's College News Archive
https://www.stcolumbas.ie/wp-content/uploads/2017/04/weblogo.png
St. Columba's College News Archive
2016-11-19 00:00:00
2017-08-14 17:59:33
St. Columba's SCT & JCT Rugby Teams Lose Tight Cup Matches