Transition Year Half Term Update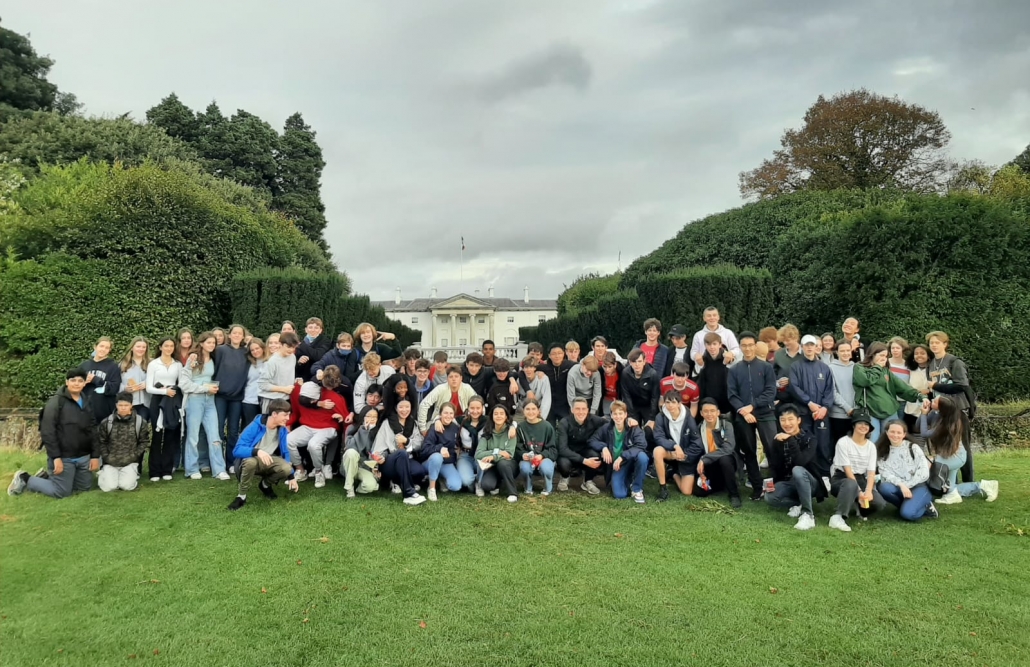 There's a common misconception that Transition Year (TY) is a "doss-year", that nothing happens and pupils are bored and rarely challenged. Well, judging from the exceptionally busy programme of events the TY pupils at St. Columba's have been involved in so far, we can safely say that is not true.
We have a large, diverse, enthusiastic and hard-working Transition Year group this year. While their teachers have been challenging to develop academically, the TY Co-ordinator, Mrs Ann Kilfeather, and her team have been extremely busy providing them with opportunities to develop their interpersonal and extra personal skills.
Earlier in the term, the pupils visited the excellent Causey Farm where they participated in a range of bonding and team-building activities. There was fun and mayhem too with bog jumping, sheep herding and bread-baking. Every year, our TY pupils remark on how much they enjoy that first trip to Causey Farm each year and this year was no exception. We've had visiting speakers including former governor of Mountjoy Prison John Lonergan, who remains as engaging as ever, and others from Team Hope (who co-ordinate the excellent Christmas Shoebox Appeal) and the Peter McVeery Trust (more on that to come). They also took part in a motivation and leadership workshop with The Super Generation.
This week is designated the Transition Year Community Week and the pupils had no formal lessons, instead participating in a range of projects aimed at increasing their awareness of cultural, sustainable and equitable community involvement. They all visited Dublin's Pheonix Park, soaking up the historical, ecological and cultural elements in Europe's largest urban park. They then visited Dublin Zoo, touring the amazing facilities there before enjoying a presentation on community conservation and sustainability. Two large groups of TY pupils donned their high-visibility vests and travelled to nearby Marlay Park and Sandymount Strand to pick up litter. Continuing that theme, back in the College, some pupils built sustainable bird feeders in an effort to increase biodiversity in the College while others planted vegetables in the new sustainability garden.
There has been a lot of fun this week too. A hike up nearby Kilmashogue Mountain, baking brownies, scones and flapjacks (all delivered and donated to the Rathfarnham Parish Hall), wrapping shoeboxes for the Team Hope appeal and pitching tents for their sleep-out in aid of the Peter McVeery Trust, a wonderful homelessness charity. That sleep out took place last night and luckily the weather stayed dry, although it was very cold. Well done to all who took part, including the staff who supervised.
So, as you can see, it's been a jam-packed eight weeks for our TY pupils. A "doss-year" I hear you say … I think not. See a selection of photos from the various TY activities below.
https://www.stcolumbas.ie/wp-content/uploads/2021/10/F628C8DE-7D0E-45B9-954F-C6FAF361DD30-e1634890525183.jpeg
1036
1600
sccdublin
https://www.stcolumbas.ie/wp-content/uploads/2017/04/weblogo.png
sccdublin
2021-10-22 07:00:36
2021-10-21 19:53:01
Transition Year Half Term Update