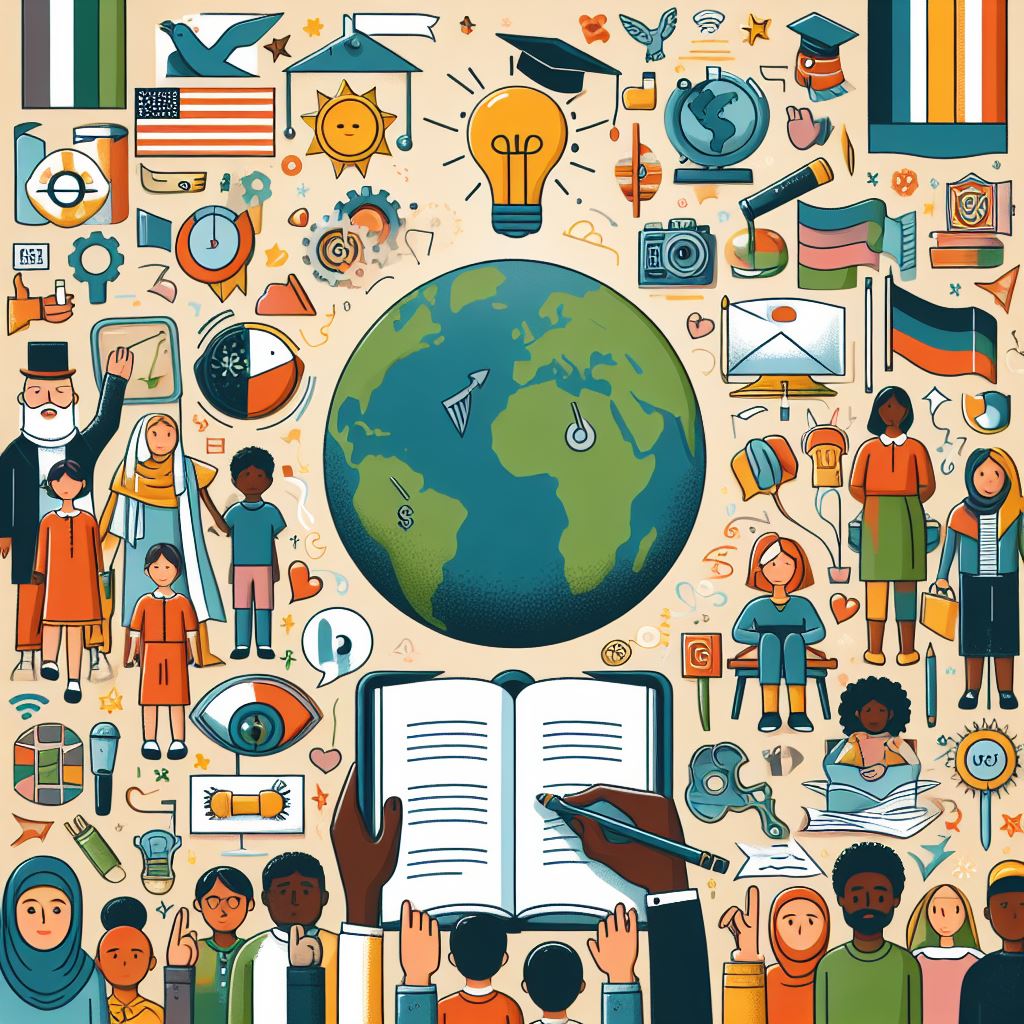 I am sure that, like me, you were alarmed by the riots in Dublin on Thursday evening last week. The Irish like to think of themselves as welcoming and friendly …the land of 1000 welcomes… so it was a bit of wake-up call when the cry went out, as you may have heard on social media, to kill the foreigners in a city that is increasingly international and diverse. I know that many people have been seriously shocked by what happened. And it has made me ponder how common it is, and has always been, to blame the immigrant and the outsider for the problems in a country. It's a very old story.
When we were living in South Africa there was an outbreak of xenophobic violence and many African immigrants from countries surrounding South Africa were attacked, their businesses were destroyed and some were even killed. In our local township of Huhudi, which a few of you will be visiting in February and from where many of the children came to the school I was running, a couple of immigrants were killed, including a Somali who had set up a bakery. The old cry went out that 'these foreigners are taking our jobs' and he was killed by a mob. The following week there was another outcry…there was a shortage of bread in the township.
Discrimination and prejudice is usually the result of ignorance. It is harder to hate someone with whom you have shared your life, and whose concerns and fears you have made an effort to understand. It makes you realise that they are people just like you, with the same hopes and fears for themselves and their families. It is much easier to discriminate against people you don't know or don't relate to and to convince yourself and other people that they are somehow not like us and therefore of less value. That can happen on a micro level and cause hurt, but it can also happen on a much bigger scale and the results of that can be horrific and catastrophic. We all know what happened to the Jews before and during the second world war.
In case you think that this was a unique occurrence, be warned that it is all too common. On Saturday evening my wife and I were invited to dinner with some Argentinian friends from our church. As we chatted the wife of the couple dropped into the conversation that her grandfather was Armenian. I immediately asked if he had fled from Turkey during the genocide of the Armenians living in what was then the Ottoman Empire, in 1915. She said he had. Up to a million ethnic Armenians were marched into the Syrian desert and left to die, while their cities and towns were systematically destroyed and their culture and history erased. This is a fact of history that Turkey to this day denies was a genocide but is accepted as such by most Western countries. She said that her grandfather had been rounded up with all of his family and hit on the head. He passed out and when he woke up he found himself under the body of his grandmother, where he pretended to be dead for the next three days until the attackers left. He eventually emigrated to Argentina. Amazing to discover that story about someone I have known for a while.
I asked her husband, Pablo, why you see many indigenous people from South America in countries like Brazil and Peru and Bolivia, but not in Argentina. He explained in a very matter of fact way that in the 19th century the indigenous people there were considered a nuisance and rounded up and killed or forced to emigrate. I had no idea about that. Argentina is an enormous country but there are basically no indigenous people left there at all. They were victims of an ethnic cleansing.
In Australia, the Aboriginal, indigenous people were considered to be sub-human and hunted down by the early white settlers, mainly British and Irish. There are many still around now, though often living in very squalid conditions. Such was the attitude towards them that for a long time, and until as recently as the 1970s, their children were removed from their families and forcibly adopted by white families, so that they would grow up to be civilised. I played a season of cricket in Australia in 1990-91 and I was horrified to hear the casual and racist manner in which white Australians referred to the oldest inhabitants of their land. Oddly enough, my aunt married an outback farmer and they lived in a remote corner of north west Australia known as the Kimberleys. The nearest white neighbour was about 50 miles away and so my cousins Joe and Matt grew up with the local Aboriginal children as their friends and grew to respect them. Joe is now one of the world experts on Aboriginal languages at a university in Sydney.
In 1994 in the small Africa country of Rwanda there was a genocide when the majority ethnic Hutus turned on the Tutsis and butchered up to a million of them in a couple of months. Ill-feeling, whipped up by propaganda, had been building until the cry went out that the Tutsis were 'cockroaches' who should be stamped on. They were vermin and to destroy vermin is doing everyone a favour. This happened even despite the presence for much of the time of United Nations peace-keeping forces. That is only 30 years ago.
In 1986 I was part of an exchange between British and Arab students. I spent a week in Jordan meeting young Palestinians who were refugees from the West Bank, from where their families had been forced to flee in 1948, or 1967 or 1973….you can go and research those dates. What is happening now in Israel and Gaza fills me with horror but also enormous sadness. Neither side in the conflict sees the other as human and, as I said earlier, when that is the case it makes it much easier to treat them as the 'other,' of lesser value. How many Jews really try and understand the pain of Palestinians who lost their homes after the establishment of the nation of Israel in 1948? How many Palestinians understand the historic persecution of the Jews and the incredibly real and still raw trauma of the killing of 6 million Jews before and during the second world war? I am not going to attempt an analysis of an historically complex situation (I don't want to walk into a minefield) but to see the hatred that people have for each other in the holy land, where Jesus once walked and talked, is hugely upsetting. Last week it was announced that Christmas this year has been cancelled in Bethlehem.
I made a friend on that trip, Jeroen Gunning, who was so moved by the experience that he has become one of the top experts in the world on the region and knows more about Hamas and Hezbollah than almost anyone on the planet. He is a professor of Middle Eastern Studies at King's College London. I have been trying to pin him down for a fireside chat, but, as you can imagine, he is in high demand at the moment.
You might think that these kind of things couldn't happen nowadays in the West. However, when I hear Donald Trump, former and quite possibly future president of the United States, describe his enemies and detractors as vermin I do worry. After all, vermin is not really human and to destroy it is to do everyone a favour.
In the South Africa where my wife grew up, along with a few of the staff here, non-whites were treated as second class citizens by law and did not have the right to vote. I have told you this before but her best friend was not allowed to go to the beach with her or travel in the best train compartment as those were reserved for white people. That same friend is now vice-chair of the South African medical research council and we are staying in her home at Christmas in Cape Town.
When I started the job in South Africa we decided to have a few teaching staff round for dinner and we made sure that those coming were a mixture of different racial groups: white, black, mixed race, Indian…they were enjoyable evenings, but during one of them one of the black teachers, possibly about 40 years old, admitted that this was the first time that she had ever sat down to eat with a white person. What we had thought was normal was actually far from normal. But how can you build relationships between people of different backgrounds, mutual trust and respect, if you do not create the conditions for dialogue and honest conversation?
You may wonder why I am telling you all of these things, many of which are extremely depressing. I'm not entirely sure myself, but I guess that in some ways I am just trying to share with you what has been on my mind, particularly since the attack by Hamas on October 7th. And having observed the scenes in Dublin last week I also want to change the conversation slightly and ask what part we as Columbans can play in being part of the solution rather than part of the problem. Yes, even we here in our splendid isolation on the hill have a responsibility.
This is a very multi-racial and multi-cultural school and it is being increasingly reflected in the city around us. In the 8 years I have been here I have seen Dublin become much more cosmopolitan. I think that is great, but some people clearly feel threatened by it or want to use it as an excuse for their own shortcomings. The same understanding of difference and diversity that is needed for society to function successfully should be modelled by us here in our own smaller and admittedly privileged context. How we respect each other, particularly those who are different from ourselves, how we talk about each other, how we talk to each other, is supremely important. Do you make an effort to understand the country your friends come from? Do you have friends who don't look like you or talk like you? Can you disagree with your friends who may have different viewpoints from you, while remaining friends? Society is losing that valuable skill, the skill of disagreeing respectfully. Our diversity here is our strength and we must learn to cherish our differences.
I hope that all of you take some interest in what is happening in the news. I think we all have a responsibility to know what is going on. And I think we also have a responsibility to get to know people from different communities, to really listen to their stories, because otherwise we risk getting our opinions from hysterical social media, from fake news and algorithms that manipulate us. It can feel like the big events in the world happen a long way away and do not touch your lives, but last week's events here in Dublin showed that the culture of blaming the foreigner and the outsider is alive and well over here. And perhaps what I really wanted to say this morning is, let's make sure that that is not something that anyone can ever accuse us of here at St. Columba's.
https://www.stcolumbas.ie/wp-content/uploads/2023/11/992787ee-0858-4f91-99cf-e95671ab9480.jpg
1024
1024
sccdublin
https://www.stcolumbas.ie/wp-content/uploads/2017/04/weblogo.png
sccdublin
2023-11-30 08:44:17
2023-11-30 08:44:18
Warden's Thoughts on … the Dublin Riots